The Best Video Compressors
Video files can take up a massive amount of storage space on your computer, external hard drive, or in the cloud. Worse, uncompressed files can take a long time to upload and may get bogged down when streaming. Fortunately, with the right software, you can compress your video files without losing a lot of quality. So, what's the best video compressor on the market today? Let's compare a few of the top choices.
A robust and user-friendly video conversion and compression program – the best video compressor for most amateur and pro video creators.

Available for Mac, Windows, Linux, and even command line – the most versatile choice for users who love freeware and open-source software.

Complete with a video downloader and batch compression capabilities, it's a great option for users who don't mind paying for their software.

Want to compress a video you found online? Freemake offers a tool to download videos from YouTube and other platforms in manageable sizes.

4K is the present, but 8K is the future. Aiseesoft lets you compress the highest-resolution videos available today.

An easy platform for video and audio conversions, DVD burning, screen recording, and video downloading.

Compatible with PlayStation, PSP, Xbox, and other platforms, it will work for almost any user on almost any device.

Intuitive and fast, it allows users to compress all or part of a video file with a slider tool and integrates with your video gallery.

The video rotation feature is key for mobile video creators, and native sharing functions make video publishing easy.

Compatible with Android OS 5.0, even older devices have no problem handling its video editing and processing functions.

It lets you extract audio, compress videos and GIFs, and convert between video file formats with ease from your Android device.

Running out of space on your iPhone or iPad? Beginners and veteran video creators can enjoy this free, user-friendly app.

Apple users who want to save space and time will enjoy the ability to compress multiple files at once with this free app.

Enjoy fast, easy video compression with numerous supported file types – all online with no need to download any software.

It doesn't have a lot of features, but it does its job and doesn't require registration. And there's never a watermark on output files.

It may have a limit on file sizes, but its speedy compression times are a big feature for users on the go!

An easy tool to control how much you compress your video files to get the best quality while saving the most space possible.
Disclaimer: This post contains affiliate links. When you click an affiliate link and make a purchase, we receive commissions.
The best MP4 video compression desktop programs
Best mobile video compressors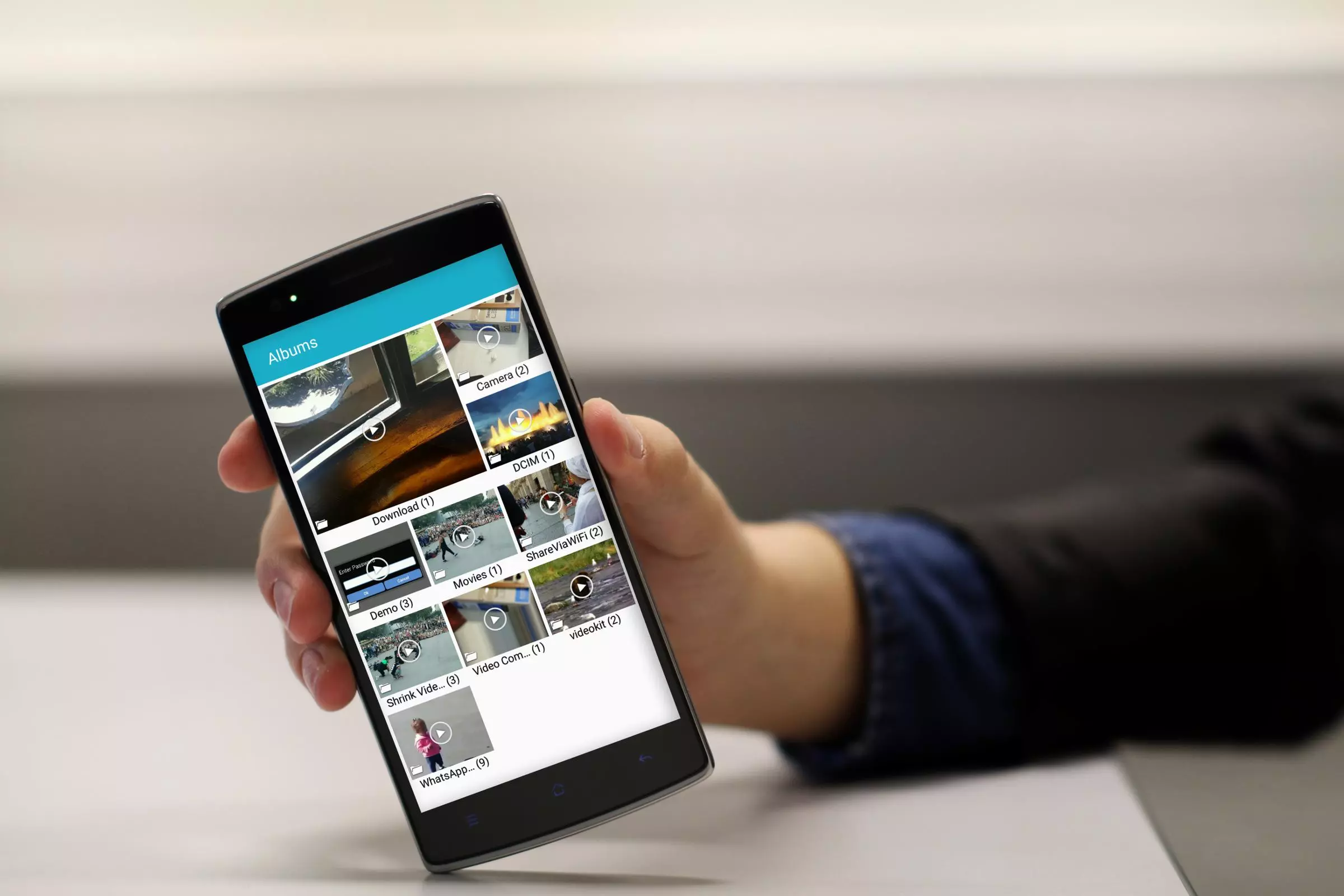 Videos & Movies Compressor is a free app for Android OS 4.0 and later. If you're an iPhone user, this is not the best free video compressor for you, but many Android users have reported success with it. It supports all popular video and movie formats. It allows users to choose videos from their photo gallery, and you can either shrink the entire video or select a section to shrink – using an intuitive slider. The best feature of all may be that this app can work in the background. So, instead of sitting and waiting for your videos to compress, you can move on and use other apps while Videos & Movies Compressor finishes up.
What are its best features?
Compresses videos in the background
Integrates with your phone's video gallery
Capable of resizing gallery videos
What could be improved?
Add versions for other platforms, not only Android OS
Add more editing capabilities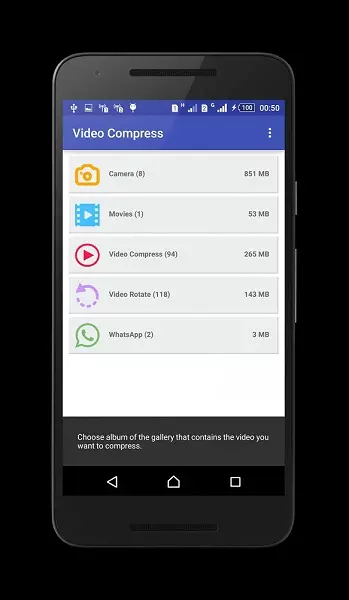 Video Compress is another free Android app for video conversion and compressing. This app is only compatible with Android OS 6.0 and higher. Users with older devices may have difficulty using it. Along with creating compressed videos with multiple quality options, Video Compress also has a feature to share your video clips via email, YouTube, and other sharing platforms. Also, all of the videos you create in Video Compress are saved to an album and accessible in your phone's video gallery. Accessibility to output files and easy sharing make it an attractive option for many streamers and YouTubers.
What are its best features?
Video sharing capability
Video rotation feature
Easy access to all compressed videos
What could be improved?
Add versions for other platforms (only Android OS 6.0 or higher is available now)
Allow more user control over compression rate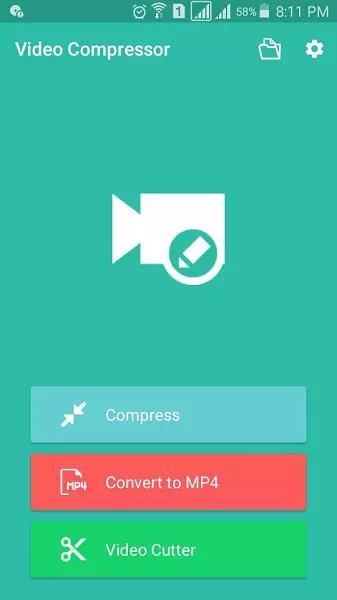 Video Compressor MP3 Converter is a mobile conversion app for Android OS 5.0 and higher. The developer offers a free version with limited features and a paid premium version. Along with video conversion and compression features, it also includes some limited video editing capabilities. Users can convert videos to MP4, maintain high quality when compressing large videos, crop video clips, and change audio frequency and speed. Newer features in the latest updates include a tool to speed up and slow down output videos. Users should be aware, though, that there are some significant limitations when using the free version.
What are its best features?
Video editing capabilities
Tools to change video and audio speed
Little loss when compressing large videos
What could be improved?
Allow compressing HD files not only in the premium version
Add versions for other platforms (only Android OS 5.0 or higher is available now)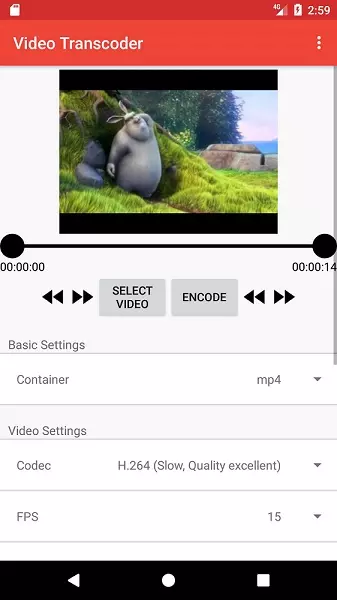 Video Transcoder is an Android app that allows users to encode and convert videos to different formats on their phones. It also includes tools that allow users to extract audio from video files. The app is open-source, which means that it's free and the source code is readily available. For users accustomed to open-source software, this can be very attractive, but newer users may be frustrated by the lack of customer support, documentation, and updates. If you're willing to do some hunting when you find a bug, you may enjoy this app, but some users have reported inconsistency in the quality of output videos – especially when watching a video with a lot of movement.
What are its best features?
Supports GIF files as well as video files
Audio extraction capabilities
Free and open-source
What could be improved?
Make video quality more consistent
Add support for MKV files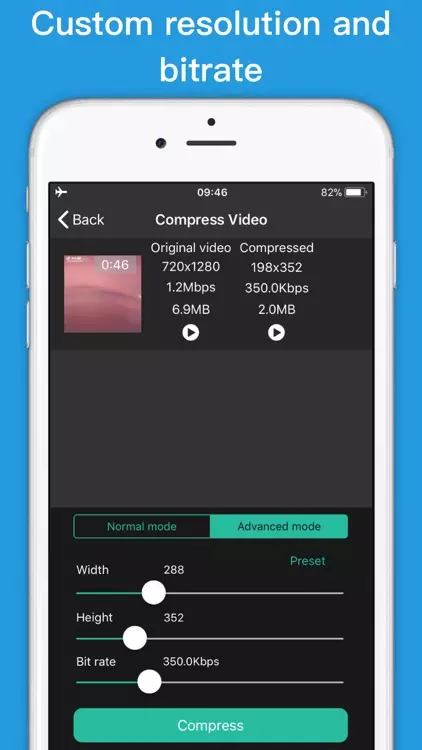 Video compressor - save space is a free app available for iOS 9.0+ and iPadOS 9.0+ in the App Store. With this app, users can compress videos on their mobile devices to save storage space. It has two modes, normal and advanced. Beginners can use normal mode to compress video files easily, and more advanced users can customize their videos' bitrate and resolution. In either mode, you can check your video's image quality with the preview feature to ensure that you can still enjoy watching your new, smaller video files. If a video loses too much quality, you can adjust the compression rate. In normal mode, you can choose to compress by percentages between 15% and 85%. In advanced mode, you have more options to resize and compress your video to preserve quality.
What are its best features?
Free
Easy video compression in normal mode
Bit rate adjustment capabilities in advanced mode
What could be improved?
Add editing capabilities
Convert to other file types
Stop tracking users' identifier data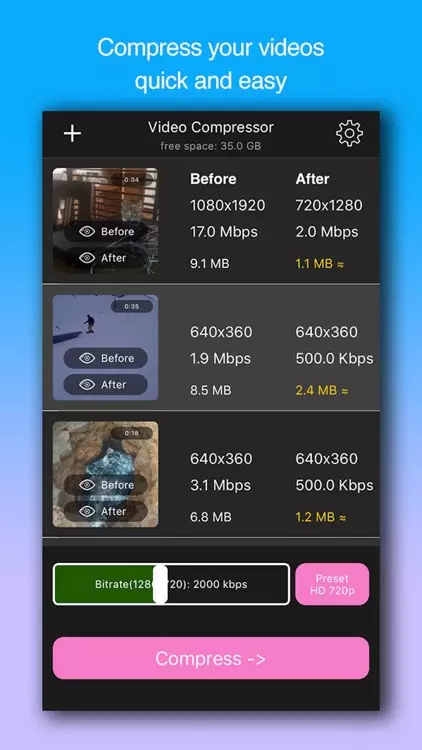 Another option for iPhone and iPad users, Video Compress – Shrink Vids is a free video compressor for iOS and iPadOS versions 11.4 and later. While its user interface isn't the sleekest, it is easy to use and does allow you to compress batches of video files to save space on your phone or another mobile device. It also has the capability to customize resolution and bitrate to adjust the level of compression. A lot of users like these features when they want to save some storage space but don't want to lose video quality. It gives you the option to sacrifice a little more storage space to maintain a high-quality viewing experience.
What are its best features?
Batch video compression
Adjustable resolution and bitrate
Intuitive controls
What could be improved?
Make the user interface more user-friendly
Add trimming or cropping tools
Add more presets
Best online video compressors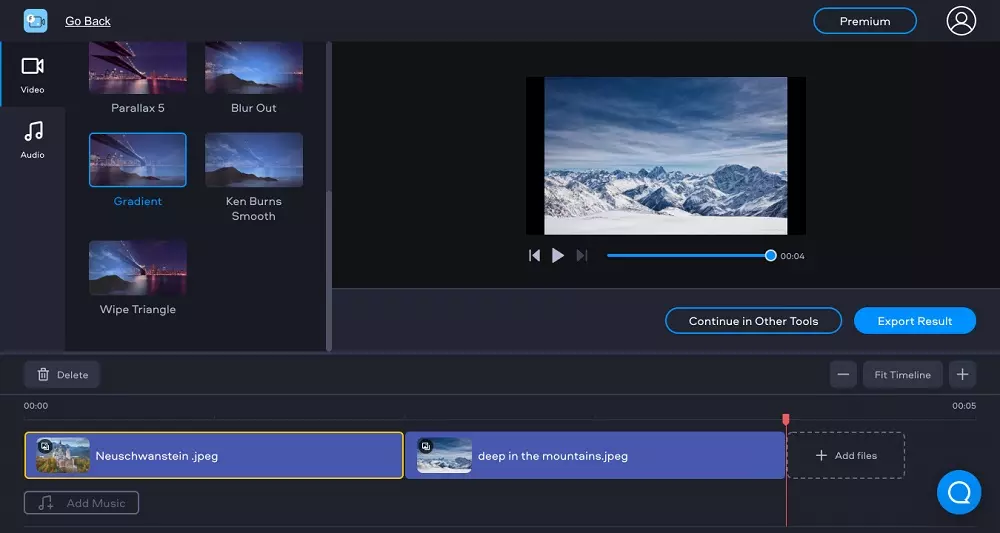 Fastreel is an online video compressor that allows users to compress their files in a browser without downloading any software. To use it, simply go to Fastreel's website and either drag and drop your files into the designated space or click on the blue "Add Your File" button to browse for your files. You can also upload files from Dropbox or Google Drive by clicking on the down arrow next to the "Add Your Files" button. When you click continue, you'll be prompted to choose your compression rate, and then you can save and export your files to your computer. This web app does offer a free version, but output files will include a watermark unless you pay for one of the premium versions. For the paid versions, users may choose to pay $5.95 per video or $9.95 per month.
What are its best features?
Secure online video compression capabilities
Free export options
Drag-and-drop file uploads
What could be improved?
Remove the watermark on the free version
Make processing faster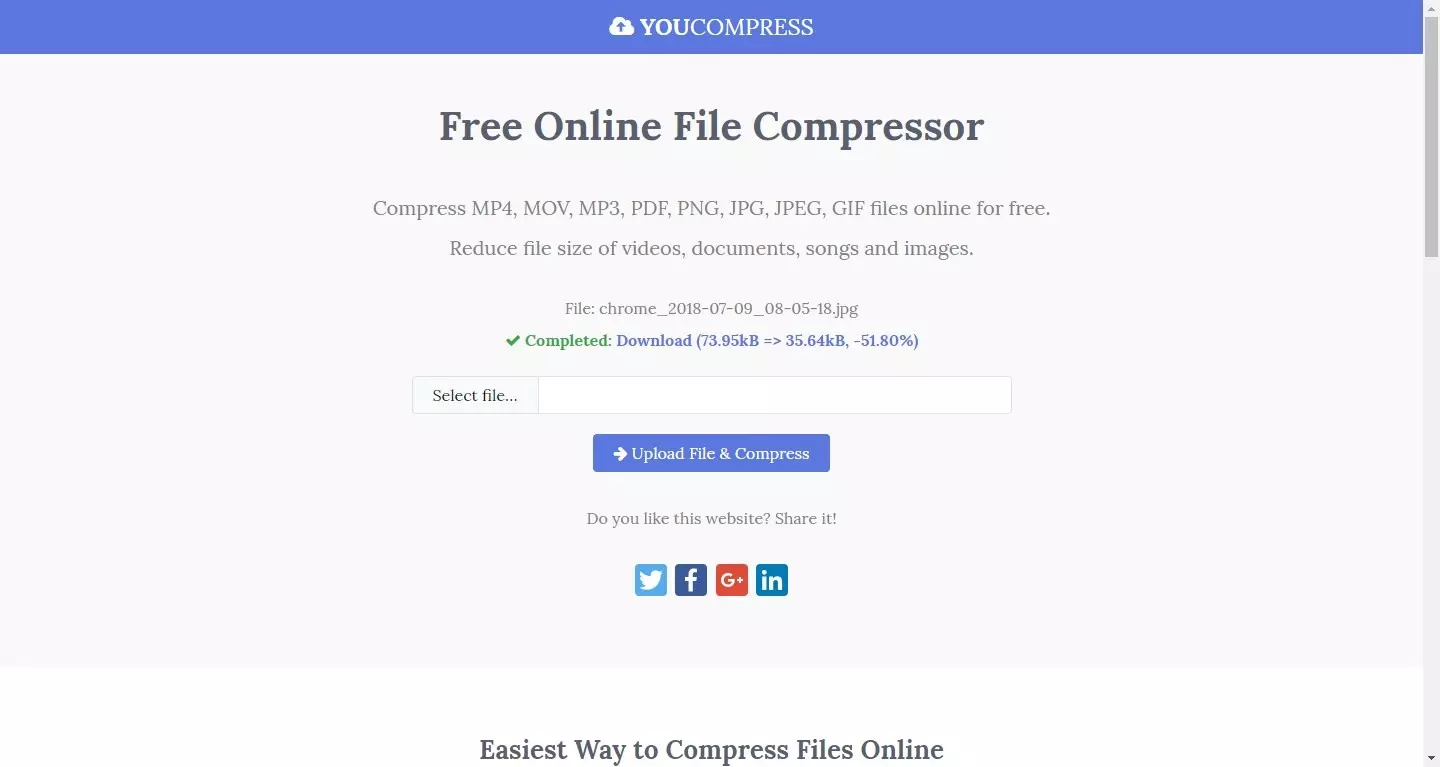 YouCompress is a free online file compressor. Unlike most of the compressors in this article, YouCompress isn't limited to just videos and audio files – it also supports compression for PDFs and images, as well. Users enjoy that this online compressor is true freeware with no registration and unlimited exports with no watermarks. However, batch file compression is not an option, and it doesn't include any additional editing options.
What are its best features?
No registration required
No watermark
No limit on compressed files or exports
What could be improved?
Add more control on compression rate
Add additional video editing tools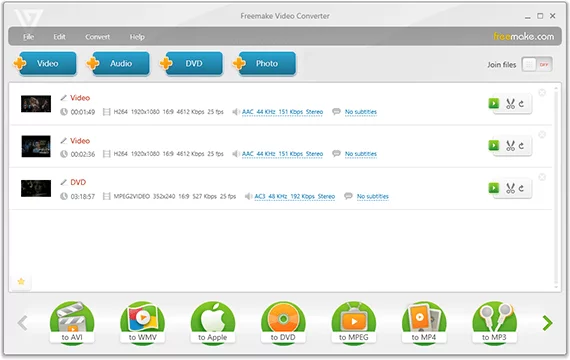 FreeConvert is an online video compressor with a free version and paid subscription options. The free version will not compress video files larger than one gigabyte. Subscriptions start at $9.99 per month and range to $25.99 per month, or you can purchase a 24-hour pass that allows compression of up to 50 files no larger than 1.5 GB each.
What are its best features?
Fast online video compression
Optional advanced settings, including video codec and compression method
Drag-and-drop file uploads
What could be improved?
Make subscription prices more budget-friendly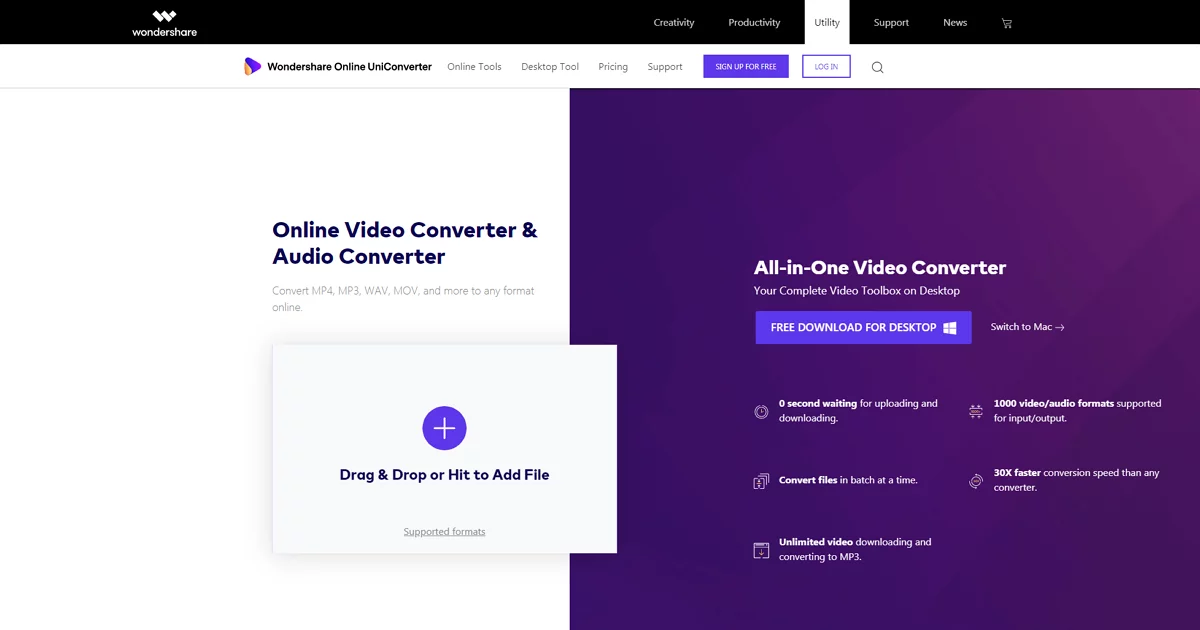 Media.io Video Compressor is another paid online compression tool. Though the pricing is better for Media.io than FreeConvert, the free version limits files to 500 MB. The basic paid plan is a reasonable $4.99 per month, but users are still limited to one gigabyte. In fact, the only way to get access to unlimited file sizes is to purchase the lifetime license for $79.99. It's easy to use, though, and the "More Settings" option allows users to specify the size of their output videos and other aspects to preserve quality while saving space. When you download your compressed files, you can choose to send them to your computer, Dropbox, or Google Drive.
What are its best features?
Flexible compression settings
Inexpensive subscription options
Download to your local machine, Dropbox, or Google Drive
What could be improved?
Add video-editing capabilities
Add more file sizes without purchasing a lifetime license
Summary: choose the best video compressor for your video files
Now that we've explored all of the top video compressors available today, how can you choose the one that's right for you? Before we leave you to figure it out on your own, here are a few of our top tips to steer you in the right direction:
1. Narrow your choice down based on your device. If you're looking to save space on your Android phone, you can ignore the tools available for other devices. If you don't want to download software to your machine, you probably will want to look at the online video compressors we reviewed above.

2. Know your budget. Which matters more to you: getting rid of a watermark or saving a few dollars? If you're on a very tight budget, you may want to stick with a freeware option, but check out some of the paid programs, as well. Many of these are very reasonably priced and offer multiple prescription options.

3. Decide which features matter most to you. Do you have hundreds of files that need to be compressed in a limited amount of time? You might want to consider a video compressor that allows batch compressions. Are you working with very large files? Just say no to tools that limit file size. Do you need to make a few edits and add some subtitles before you save? Check out an option like Movavi Video Converter.
With these tips in mind and all the info in these reviews, we hope you have everything you need to make the right choice for the best video compressor for your needs. Try out the one that seems best to you (we recommend Movavi) and let us know how it goes!