The best video-editing software for beginners in 2022
It's never been easier to create your own professional-looking videos. HD cameras have gotten incredibly affordable, and many smartphones have high-quality cameras that could rival some older digital camcorders. But, to do the job right, you need the best video-editing software for beginners. Let's explore the top options available today.
Pro-level video-editing tools that are simple and easy for beginners.

A great free video-editing option for Mac, Windows, and Linux users.

Free with no watermark, iMovie is an intuitive app for iOS or macOS.

Easily split, splice, and edit together audio and video tracks on PC.

Built on FFmpeg technology, Shotcut is great for editors on a budget.

Easily publish customized videos to your favorite social platforms.

Choose and buy only the premium editing tools that you actually want.

Free and paid versions include user-friendly 360-degree editing tools.

It's user-friendly, and Hollywood editors consider it the standard.

Pinnacle's premium version offers tons of the latest special effects.

Create gorgeous, pro-level videos online with ease. It has it all!

The premium version includes a brand kit and unlimited storage.

Need more than basic but less than premium? There's an option for you.

InVideo includes text-to-speech in all subscriptions, including free.

Edit images and short videos with no watermark and no subscription.

Don't waste time typing captions – have VEED do it for you.
Disclaimer: This post contains affiliate links. When you click an affiliate link and make a purchase, we receive commissions.
Best video-editing software for beginners
Best online video editors for beginners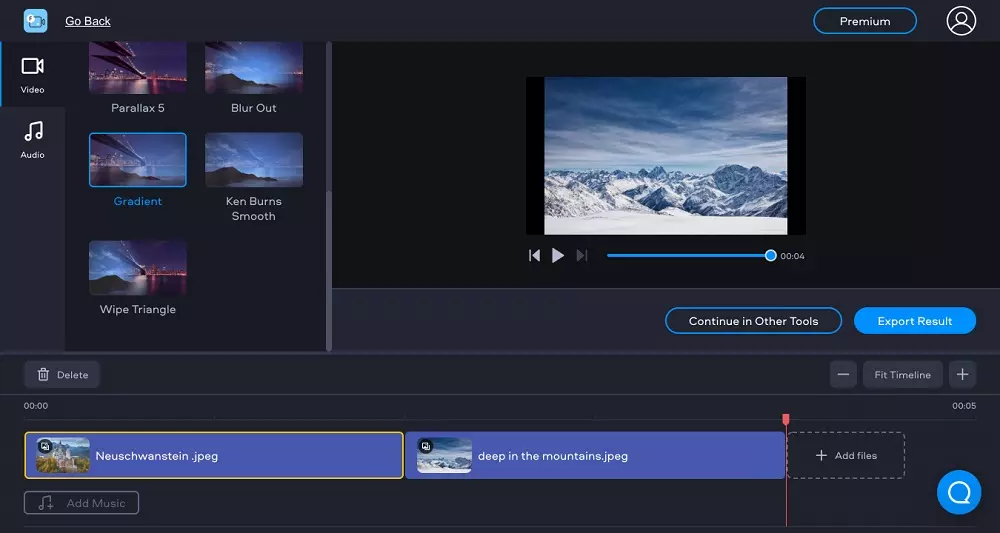 Fastreel is an online video-editing app that allows users to enhance their video projects without downloading any software. A few of the editing tools and features in Fastreel include merging, compressing, cropping and trimming, reversing, looping, and resizing videos.
Essentially, you can do almost any editing tricks you want with Fastreel – and you don't have to download any software. This makes it a great choice for users on shared devices or who have limited memory on their computers. As far as pricing goes, this tool is extremely attractive, as Movavi offers a free version of Fastreel and two affordable licensing options.
To create a single video, you can opt for a one-time license at $5.95 per video, or if you'll be creating multiple videos over an extended period of time, you can get a subscription for just $9.95 per month with unlimited exports.
What are its best features?
Very user-friendly
Affordable
Lots of templates and editing tools
What could be improved?
Remove watermark in the free version
The ability to switch between templates while editing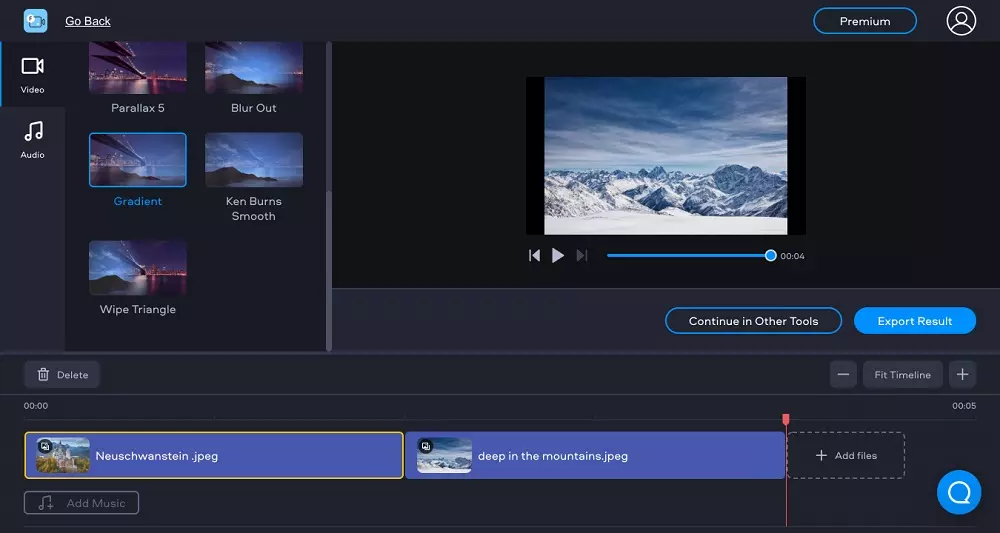 Clipchamp is another online video-editing app with multiple pricing options, ranging from free to $19 per month. The free version limits exports to 480p, which may be a problem for editors looking to create high-quality, pro-level videos.
Most social and video-sharing platforms today support at least 1080p HD videos, so being restricted to SD could be a dealbreaker for many video creators. At $9 per month, the mid-level subscription allows exports up to 720p, and the premium version has capabilities up to 1080p.
Clipchamp does not have 4K capabilities, but the premium subscription does offer a brand kit, unlimited cloud storage, and unlimited stock audio clips.
What are its best features?
Simple, fast video editing
No download
Unlimited stock audio in a premium version
What could be improved?
Add 4K capabilities
Make HD export unlimited
More expensive than some competing apps, the price can be lower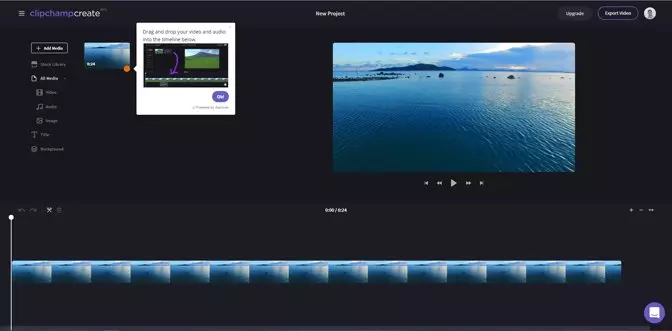 WeVideo is an online video-editing program with a free trial and multiple subscription options.
After the initial free trial, users may choose between four plans, ranging from $9.99 per month to $73.99 per month. The basic plan limits users to 30 minutes of exports per month. So, if you have a video that's 31 minutes long, you're going to have some challenges with WeVideo. Unlimited monthly export times begin with the Unlimited plan at $15.99 per month.
While this app is more expensive than many others, it does also come with cloud storage – so you don't have to finish all of your edits in one session or risk losing them. The Professional and Business packages ($39.99/month and $73.99/month, respectively) have 4K export capabilities and other additional features.
What are its best features?
Cloud storage
Free trial period
Drag-and-drop editing
What could be improved?
Expensive compared with other apps
30-minute monthly export limit with a basic plan
There can be no processing time lags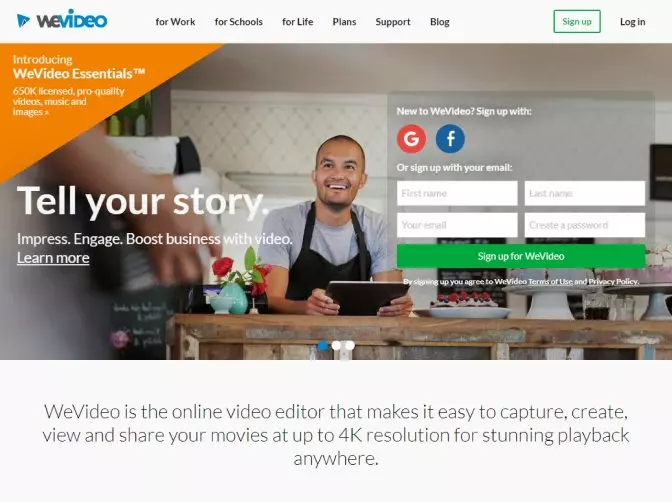 InVideo is a good option for the best photo and video-editing software for beginners who want to work online instead of editing videos on their computers. It works especially well for photo editing, as it has integrations with Shutterstock and Storyblocks. Users looking to add stock images to presentations and videos will find that InVideo makes this pretty easy and straightforward.
Users have also reported that, when issues arise, customer service is very quick and responsive. With that in mind, while InVideo claims to be free video-editing software, it's not entirely free. The basic plan costs nothing but will include an InVideo watermark and limits videos to 15 minutes. Users must jump to a $15 per month plan to get rid of the watermark and gain more features and tools.
What are its best features?
Automated text to speech in free version
10 pieces of iStock media per month included with Business plan
Lots of effects and editing features
What could be improved?
Videos limited to 15 minutes in the free version – the limit can be at least 30 minutes
Must pay $15/month to remove watermark
There can be no limits on monthly video exports in basic and mid-level plans
Summary: how to choose the best video-editing software for beginners
The best screen-recording software programs create solid videos and save you time. With this list of free and paid programs, you can now find one that'll help you create the perfect recording – no matter your budget. Just remember to review your needs and match them with the features you see listed in the descriptions above.
Is downloading a video editor an option? If you're on a shared computer, your options may be limited to online video editors. On the other hand, if you're going to be working offline or if you don't have the most consistent internet connection, you'll need an editor on your local machine that you can use any time. If you're going with an online editor, we recommend giving Fastreel a try to see how you like it before you purchase a license for any video-editing web app.
Are you editing HD videos? Some of the video-editing tools listed here don't support 1080p or 4K video exports, or they only support high-definition videos for their premium license. Consider your budget and the quality of the videos you want to create before you make a purchase.
What editing features do you need? If you're shooting on a green screen, you need an editing program with a Chroma key. If you don't have a tripod or a Steadicam, you should consider editing software with stabilization capabilities.
How many videos will you be making? Some of the options here are limited to shorter video clips, or they only allow a certain number of video exports per month. Be sure that your choice supports the number and frequency of video projects you'll be creating.
With these things in mind, you should have a better idea of which of these video-editing programs will work best for you. Why not try out Movavi Video Editor today to see what a robust, user-friendly video-editing platform can do for a short clip or a feature-length film?