The top 14 best computers for video editing
You can create cool video projects on almost any computer that will support your preferred video editing software. But, if you're dedicating your time and energy to creating and editing multiple videos, you want a computer that works for you – not against you.
So, how do you choose the best computer for video editing? Just looking at the technical specs on all the computers on the market today can make your head spin, but you don't have to go it alone. Instead, check out our reviews of the top 14 picks for the best computer for photo and video editing. Here, you'll find our top recommendations, technical specifications that matter, features, and pros and cons for each laptop or desktop. Let's get started!
Mac has long been the go-to platform for video editors. While we reviewed a lot of great PCs (and other Macs) for video editing, the Apple iMac 27-inch has a classic feel with performance that outpaces many.

While the purchase price may be daunting to some, the Mac Pro is expandable, customizable, and highly powerful for professional video editing tasks.

The HP ENVY is fast, quiet, and powerful for the purchase prices. Plus, it's upgradable and customizable after purchase.

Starting at just over $1200, the Dell XPS 17 (9700) is light, portable, and a massive improvement in design and functionality over the old XPS laptops.

Users say the Surface Studio 2 feels like working on a tablet – if a tablet had a huge display and the processing capacity of a laptop.

Don't let the Mac Mini's size fool you. It's compact, but robust.

Starting at just under $1100, the Dell XPS 8940 is a great value for the price and includes.

The convertible design of the ACER ConceptD 7 Ezel makes it a great choice for users who want a laptop that does it all.

The Corsair One Pro i180 is "an absolute beast" of a desktop PC. It's highly powerful, fast, and its slimline design makes it aesthetically pleasing, too.

Designed for gamers, this mid-sized tower PC packs a punch with high-quality graphics and fast processing speeds.

The most powerful MacBook that Apple has ever released, the MacBook Pro 16-inch is a great option for editors on the go.

It may not be as aesthetically pleasing as some of the other laptops and desktops we've reviewed, but the Lenovo Legion 7i is a strong contender for users in search of a powerful laptop PC for video editing.

With Windows 10 Pro and a high-end graphics card included, the HP ZBook Create G7 Notebook is designed for pros and powerful enough to keep up with even the most strenuous editing.

The Asus ZenBook Duo 14 is light, sleek, and extremely portable, even compared with other modern laptops, but some users report that the keyboard is a little cramped.
Disclaimer: This post contains affiliate links. When you click an affiliate link and make a purchase, we receive commissions.
How to choose the right computer
Feeling overwhelmed by all the technical jargon as you try to choose the best computer for photo and video editing? While it's great to know all the specs that will impact the performance of your computer, let's explore a few of the key considerations you should keep in mind for any computer, but especially for one that has to handle large video files and high-resolution graphics.
CPU
First, your CPU is the processor that runs your computer. You can think of your computer's CPU as its brain. If your laptop or desktop "brain" isn't fast or powerful enough to keep up with your needs, it won't matter how much RAM it has or what graphics card it's running. Processing power isn't everything, but you want to be sure that you choose a computer with a solid processor and at least 2.3 GHz processing speed. The faster the processing speed, the less lag time you'll experience in your editing projects.
Hard disk drive (HDD) vs. solid state drive (SSD)
On a similar note, in the old days, there was really only one type of computer hard drive: a hard disk drive (HDD). Today, though, you can choose between a computer with an HDD or a solid state drive (SSD). What's the difference? SSDs tend to be faster and run cooler than HDDs. Users often report that SSD computers run more smoothly and perform better for longer. While HDDs work, if possible, we recommend going with an SSD model instead. Note that when choosing an SSD or HDD, a sustained transfer rate is important: for SSD, we recommend going for the options with around 400 MB/s and for HDD – 150 MB/s.
RAM
RAM (random access memory) is basically the amount of available memory your laptop or desktop has that you can use for installing software and storing files. If you're working with high-resolution video files, you're going to be using a lot of RAM. So we recommend choosing a computer with at least 32 GB. Some computers have options to expand and upgrade RAM after purchase, but this isn't always the case. So, if you opt for a computer with slightly less RAM to save on your budget, be sure that you have enough for your projects – and that you can upgrade later if you need to.
Monitor resolution
If you're in the market for a laptop or a desktop that comes with a monitor, be sure to consider the screen size and resolution. If you'll be editing 1080p or 4K videos, you want a monitor that has a resolution of at least 3,840 × 2,160 pixels. This way, you can get a more accurate representation of the final product for your videos – including true colors and image resolution.
Graphics
While we're on the subject of images and resolution, let's talk about your computer's graphical capabilities. Many computers have the option to upgrade their graphics card, and a lot of video editors will do that before they even open their new computer's box. However, if you have a particular graphics card in mind, be sure to check out its system requirements and compare them to your computer's technical specifications. This will tell you if your graphics card will work with your computer and if you should consider going with something different to get the graphical performance you need.
And, while we're on the subject of graphics cards, many computers have separate graphics memory allotments. For example, the Corsair One Pro i180 boasts a whopping 11GB of graphics memory. On the other hand, some computers' graphics memory is integrated with their RAM. So, keep this in mind as you choose the best desktop computer for video editing.
Budget
Last but not least, let's talk about your budget. No matter how much money you allot to buy the best computer for video editing, you can always spend more. Features like high-quality graphics cards, high-resolution monitors, touchscreens, and fast CPUs all come at a cost. You don't have to break the bank and get the top-of-the-line, most expensive computer available, but you should be prepared to make some compromises on speed, resolution, or other features if you are working with a tight budget.
As you consider these factors when buying your computer, think about what matters most to you. Have you been working with a PC for years, and are you attached to the Windows 10 interface? Or would you be open to considering the best Apple computer for video editing if it fit your specifications better? Does your preferred video editing software run on Windows or Mac? Will you be relying on this computer to edit large, high-resolution files? Answer these questions and look back over these considerations as you compare models.
Comparing the best computers for video editing
| Software | Processor and speed | RAM | Screen size | Graphics processor | Graphics memory |
| --- | --- | --- | --- | --- | --- |
| Microsoft Surface Studio 2 | Intel Core i7-7820HQ, 2.9GHz | 32 GB DDR4 | 28.125" (4500 × 3000) | Nvidia GeForce GTX 1070 | 8 GB |
| Apple Mac Pro | Intel Xeo W, 3.3GHz | 32 GB | N/A | AMD Radeon Pro 580X | 8 GB |
| | | | | | |
| --- | --- | --- | --- | --- | --- |
| Apple iMac 27-inch | Intel Core i9-10910, 3.6 GHz | 32 GB | 5120 × 2880 | AMD Radeon Pro 5700 XT | Integrated |
| Apple Mac mini | Apple M1, 3.2 GHz | 8 GB | N/A | Apple M1 | Integrated |
| HP ENVY Desktop TE01-0020 | 9th Gen Intel Core i7-9700, 3.0 GHz | 16 GB | N/A | Intel UHD Graphics 630 | Integrated |
| Corsair One Pro i180 | Intel Core i7-10700, 2.9 GHz | 16 GB | N/A | Nvidia GeForce RTX 2070 Super | 4 GB |
| Lenovo Legion Tower 5i | Intel Core i7-10700K, 3.8 GHz | 32 GB | N/A | Nvidia RTX 3070 | 8 GB |
| Dell XPS 8940 Special Edition | Intel Core i7-10750H, 2.6 GHz | 16 GB | 15.6" (1920 × 1080) | Nvidia GeForce RTX 2080 Super (Max-Q) | 4 GB |
| Apple MacBook Pro 16-inch | Intel Core i9-9920X, 3.5 GHz | 32 GB | N/A | Nvidia GeForce RTX 2080 Ti | 11 GB |
| Lenovo Legion 7i | Intel Core i9, 2.3 GHz | 16 GB | 16" (3072 × 1920 Retina display) | AMD Radeon Pro 5500M | 4 GB |
| Dell XPS 17 (9700) | Intel Core i7-10875H, 2.3 GHz | 32 GB | 17" (3840 × 2400) | Nvidia GeForce RTX 2060 (Max-Q) | 6 GB |
| HP ZBook Create G7 Notebook | Intel Core i9-10885H, 2.4 GHz | 32 GB | 15.6" (3840 × 2160) | Nvidia GeForce RTX 2070 (Max-Q) | 8 GB |
| Asus ZenBook Duo 14 | Intel Core i7-1165G7, 2.8 GHz | 8 GB | 14" (1920 × 1080) | Intel Iris Xe | 2 GB |
| Acer ConceptD 7 Ezel | Intel Core i7-10875H,2.3 GHz | 32 GB | 15.6" (3840 × 2160) | Nvidia GeForce RTX 2080 Super (Max-Q) | 8 GB |
Best desktop computers for video editing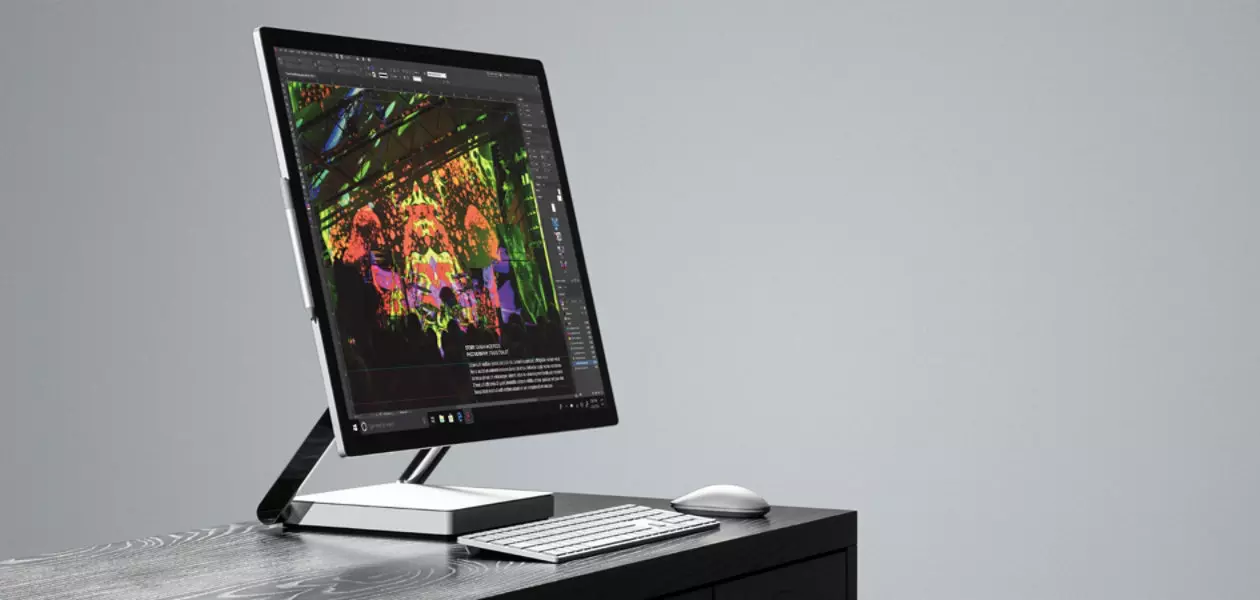 If you're looking for the best desktop computer for video editing, the Microsoft Surface Studio 2 is a strong contender. With a 28" touchscreen display and a unique monitor setup that's reminiscent of a mega-sized tablet, the Surface Studio 2 is built with creators and editors in mind. For pure video editing, it's a strong choice, but if you aren't planning on using the touchscreen for photo editing and drawing, you may want to consider one of the other options we've reviewed below.
Key features:
Touchscreen monitor
Customizable screen angle for comfortable work
Intuitive shortcuts and stylus capabilities
Pros:
User-friendly, ergonomic design
Bright display for easy visibility
Comes with Surface Pen
Cons:
Built on a dated platform
No dedicated port for video-out
CPU on the slower side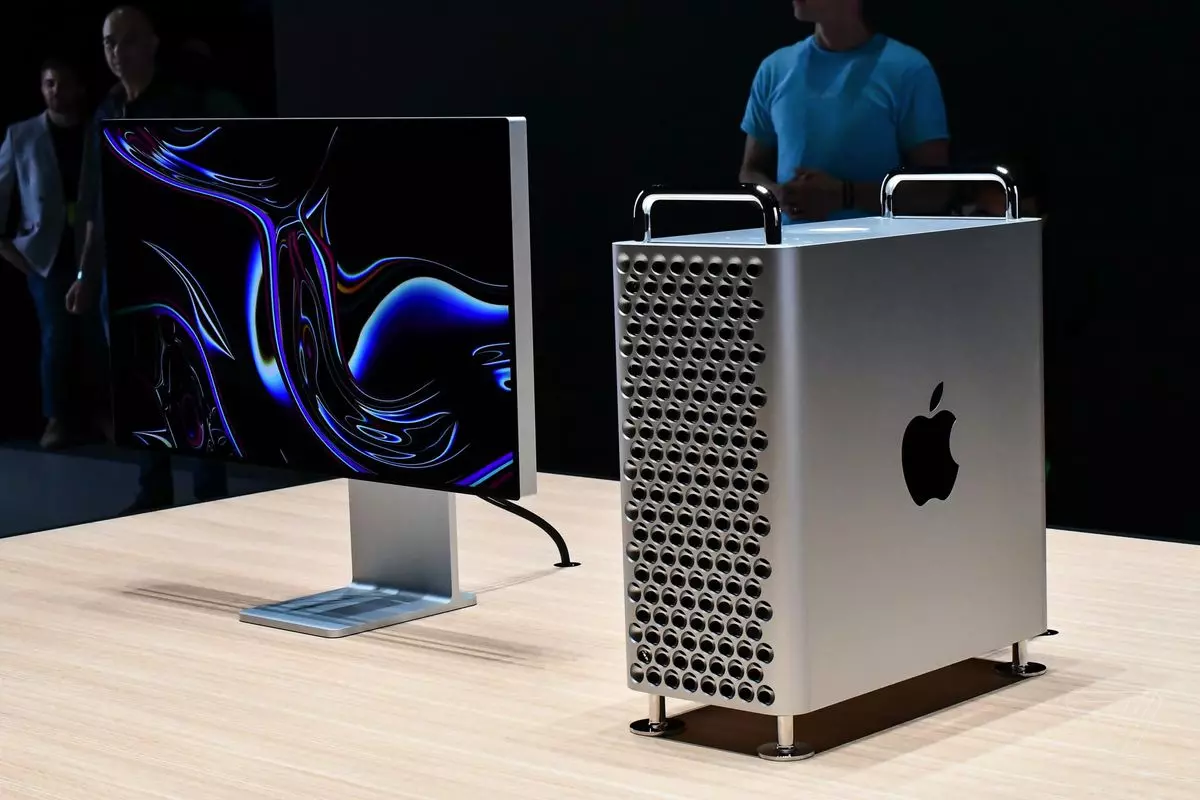 The Apple Mac Pro is a high-performing, powerful desktop computer that's a favorite with many video editors. Designed for a wide range of professional users in creative fields, this is a great choice for the best Apple computer for video editing for users who want the power of a tower computer and don't need the portability of a laptop. If you're willing to spend a little more on the right buildout, this computer can be one of the most powerful on the market, with up to a 28-core processor and other customizable features.
Key features:
Up to 28-core processor capabilities
Customizable and expandable for changing user needs
Magic Mouse 2 included
Pros:
Extremely quiet while processing
Beautiful aesthetic design
Powerful processing for big jobs
Cons:
Incompatible with Nvidia graphics cards
Outdated apps with no updates
Expensive for what you get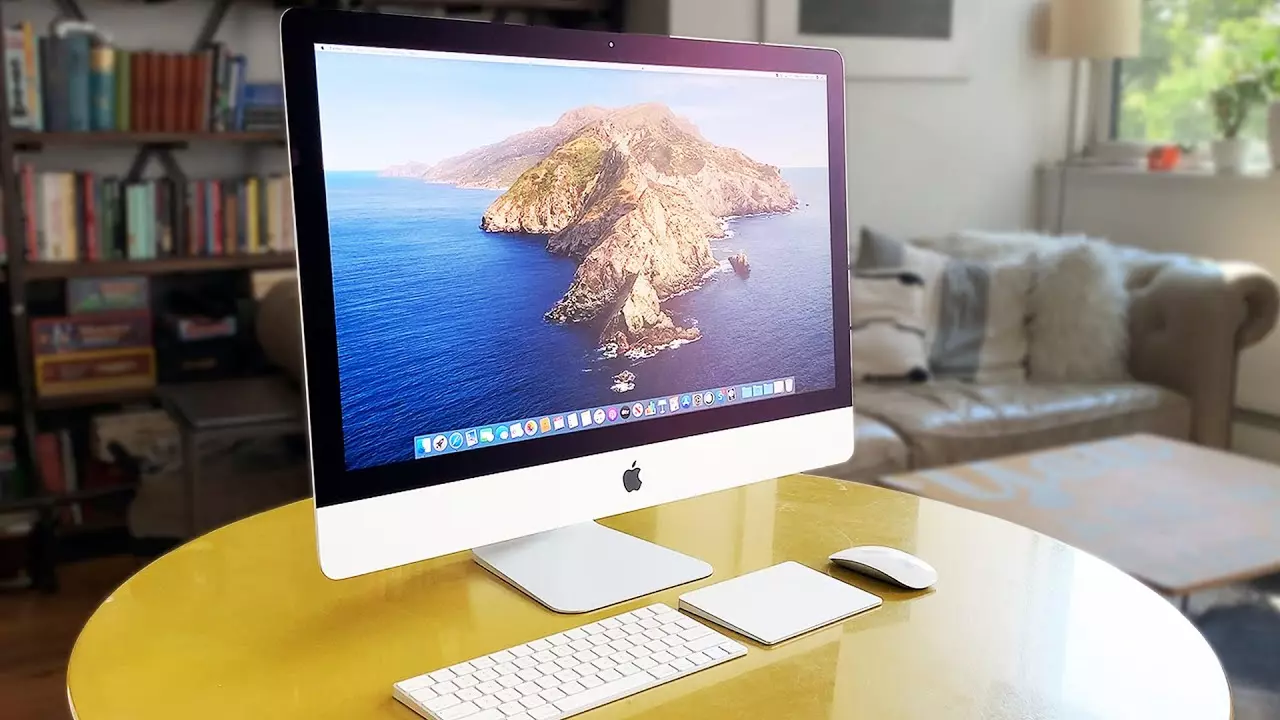 The 27" Apple iMac is a go-to desktop for Apple users looking for the best computer for 4K video editing. While it lacks portability, if you're editing in your office or at home, you'll appreciate the display size and processing power of this machine. The 5K Retina display is crisp and clear, giving editors the level of resolution they need to see their work as it will look when it's completed and rendered. Users have also raved about this computer's incredibly fast processing power and stylish design. However, some users would prefer if it came with a touchscreen, especially for the high price tag.
Key features:
5K Retina display
Nano-Texture display glass for minimal glare
Intel Core 19 processor
Pros:
Lightning-fast processor speeds
1080p webcam
Stylish design
Cons:
No touch screen capabilities
Keyboard is not ergonomic or comfortable
Price is too high for some users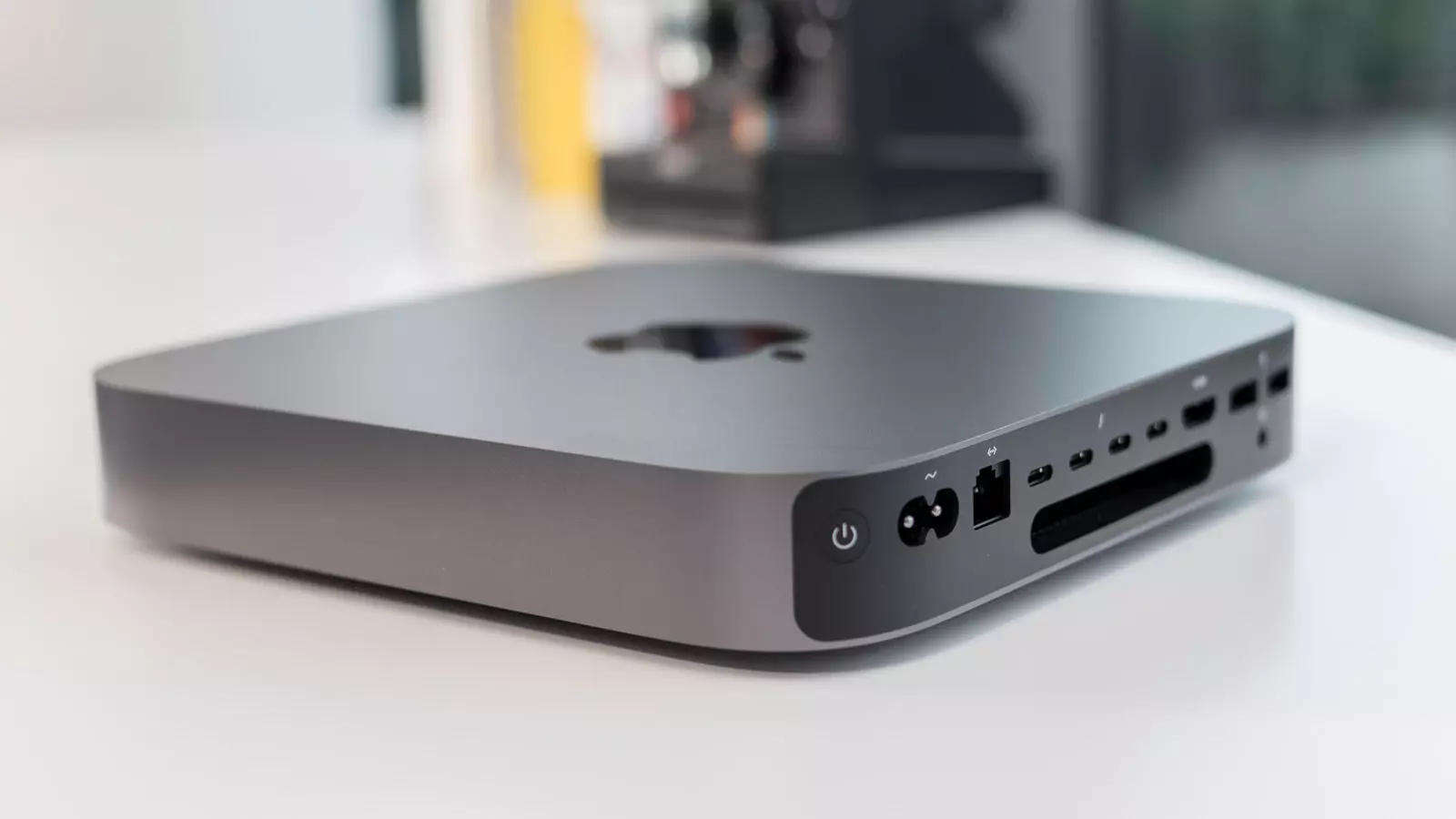 The Apple Mac Mini is Apple's "do-it-all desktop." In the latest release of the Mac Mini, Apple has increased processing and graphics speeds, and they've added a significantly more powerful Neural Engine for faster machine learning. And, while the Mac Mini isn't as portable as a laptop, at 7.7" across, it does fit on even the smallest desk and has some limited portability capability. Like most Mac products, it does come with a higher price tag than many PCs, but many users say that the performance enhancements are worth the cost of admission.
Key features:
Integrated CPU, GPU, and Neural Engine
8-core GPU option
Comes with macOS Big Sur
Pros:
Lower cost than previous models
Stays quiet and cool while processing
Big performance improvements over previous models
Cons:
Costly to boost SSD and RAM at purchase
No option to upgrade memory after purchase
Limited Thunderbolt ports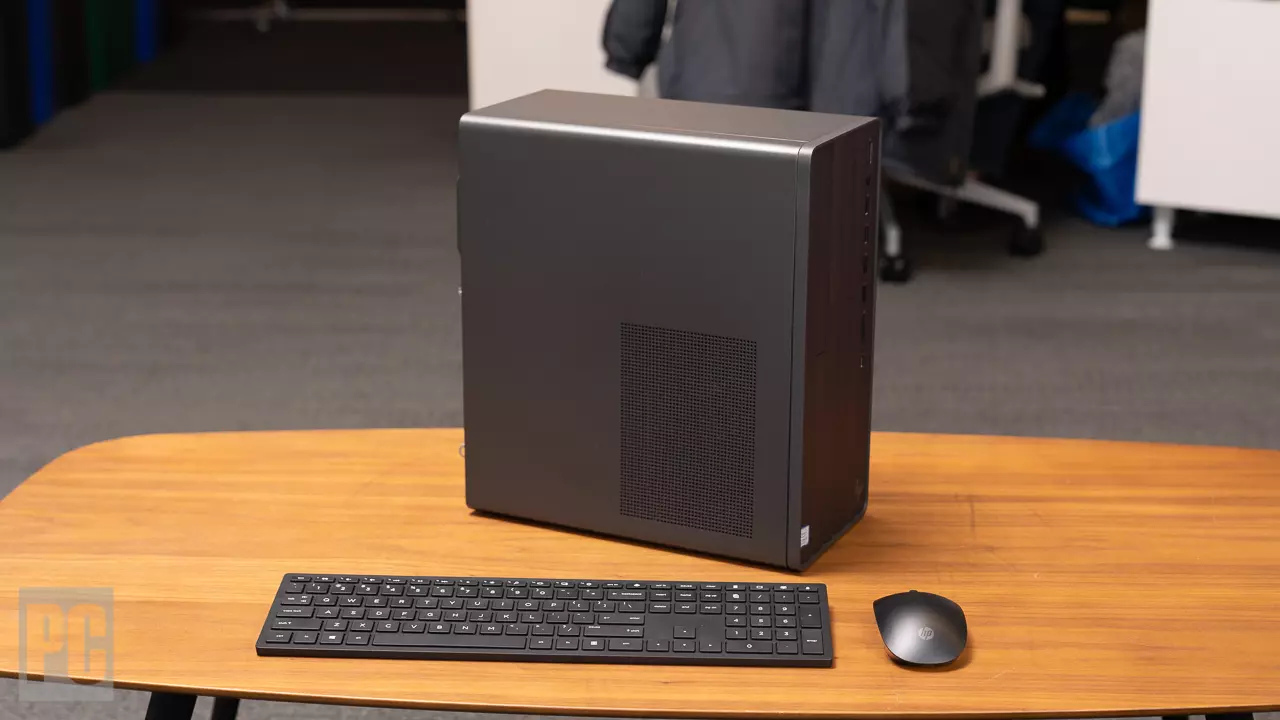 The HP ENVY is a highly customizable PC desktop that starts at less than $1000. Gamers enjoy the ENVY for its fast processing speeds and quality graphics – features that will be valuable to video editors, as well. It boasts high performance in rendering, streaming, and editing. With a powerful processor and options to add features like a DVD-writer optical drive, we recommend opting for the SSD version instead of the hard drive option for this attractive desktop. If you work with accessories that require Thunderbolt ports, though, you'll need to invest in an adapter or two.
Key features:
8th gen Intel Core i7 processor
DVD-writer optical drive
SSD or hard drive options
Pros:
Multiple USB type-A ports
Fast processing for the price
Attractive design
Cons:
Integrated graphics card means limited upgrade capabilities
Limited room for expansion
No Thunderbolt ports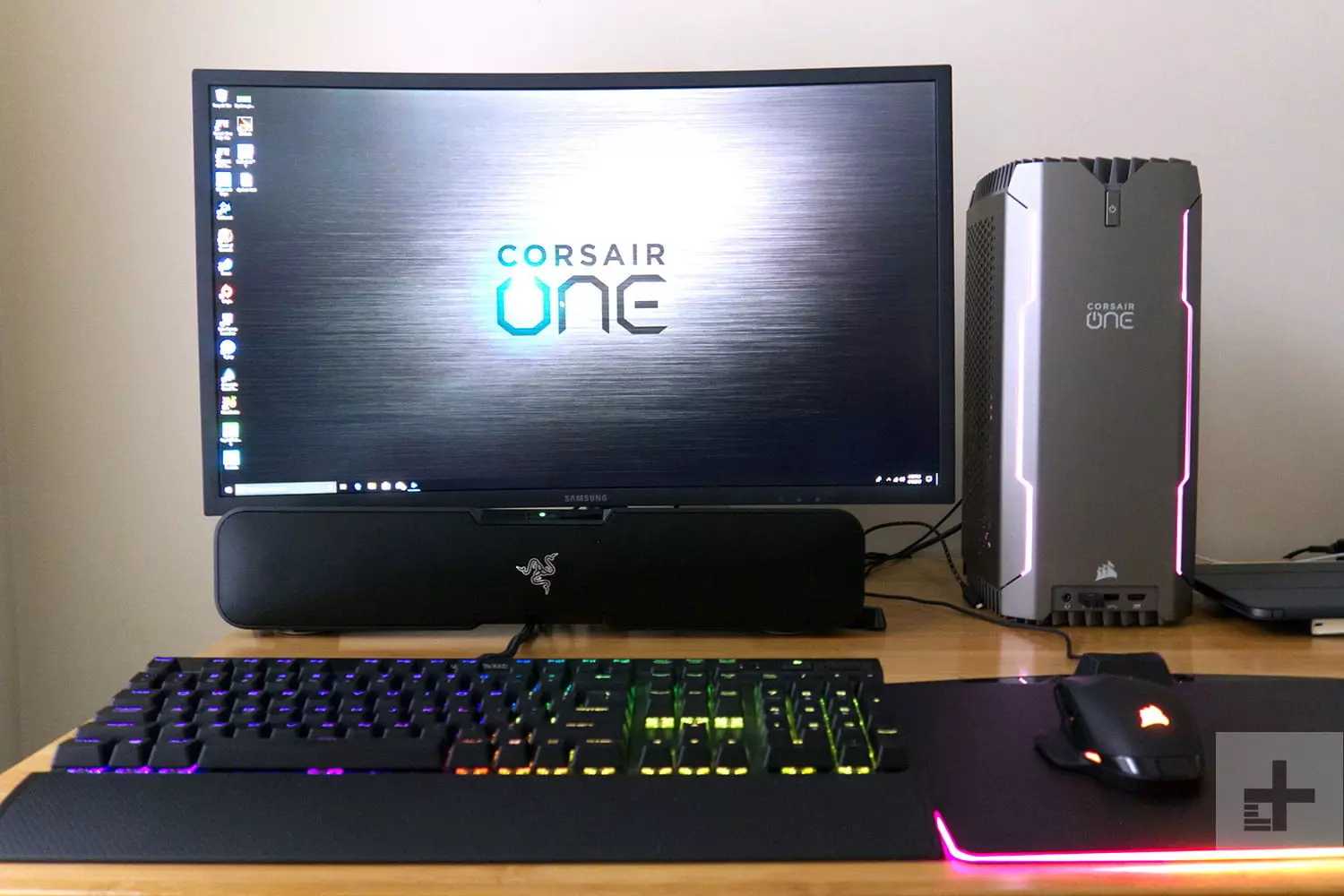 The Corsair One Pro i180 is a compact desktop computer marketed specifically to video editors. It boasts a powerful 12-core CPU with fast processing speeds to easily handle encoding and high-resolution video files. Corsair also prides itself on its patented liquid cooling system, to keep the computer running smoothly and quietly without the risk of overheating, even through long up times and high-volume editing sessions. While this is one of the quieter and more upgradable machines on the market today, some users say that its hard drive is slow and that it's expensive for the features you get.
Key features:
Lighting color options after video rendering
Nvidia GeForce RTX 2080 Ti graphics card
Ray tracing for accurate lighting
Pros:
Powerful computer for editing
Some upgradability after purchase
Very quiet
Cons:
Expensive
Slow hard drive
No editing features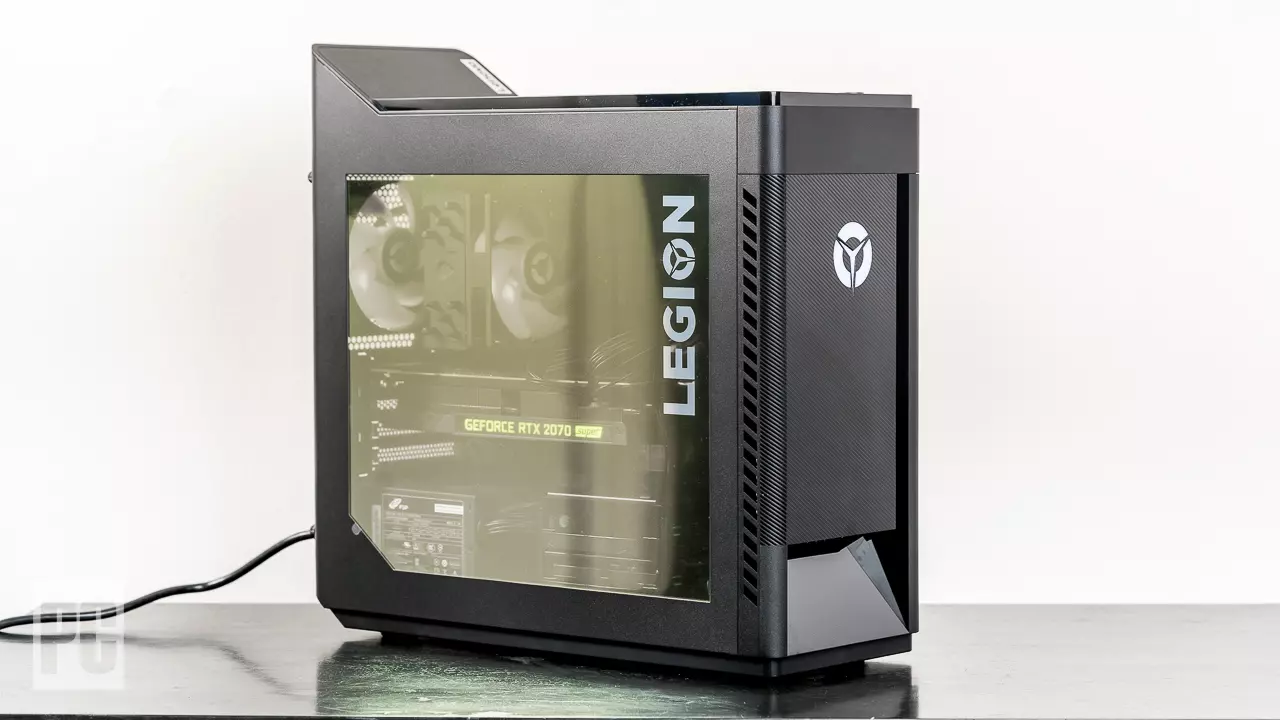 Designed around the Intel vPro® platform, the Lenovo Legion Tower 5i desktop was created with gamers in mind, but that can be a good thing for video editors too, as both audiences need fast processing speeds and high-performance graphics capabilities. The Legion Tower 5i has a few graphics card options, with the highest being the Nvidia GeForce 30 series, and the computer is available with Windows Pro for PC users who want to do a little more.
Key features:
Performance mode for automated app calibration
Monitor options with up to 165 GHz refresh rate
Customizable desktop experience
Pros:
Good price point
Customizable lighting
Excellent video processing
Cons:
Plastic exterior feels cheap
Some users report glitches with Bluetooth functionality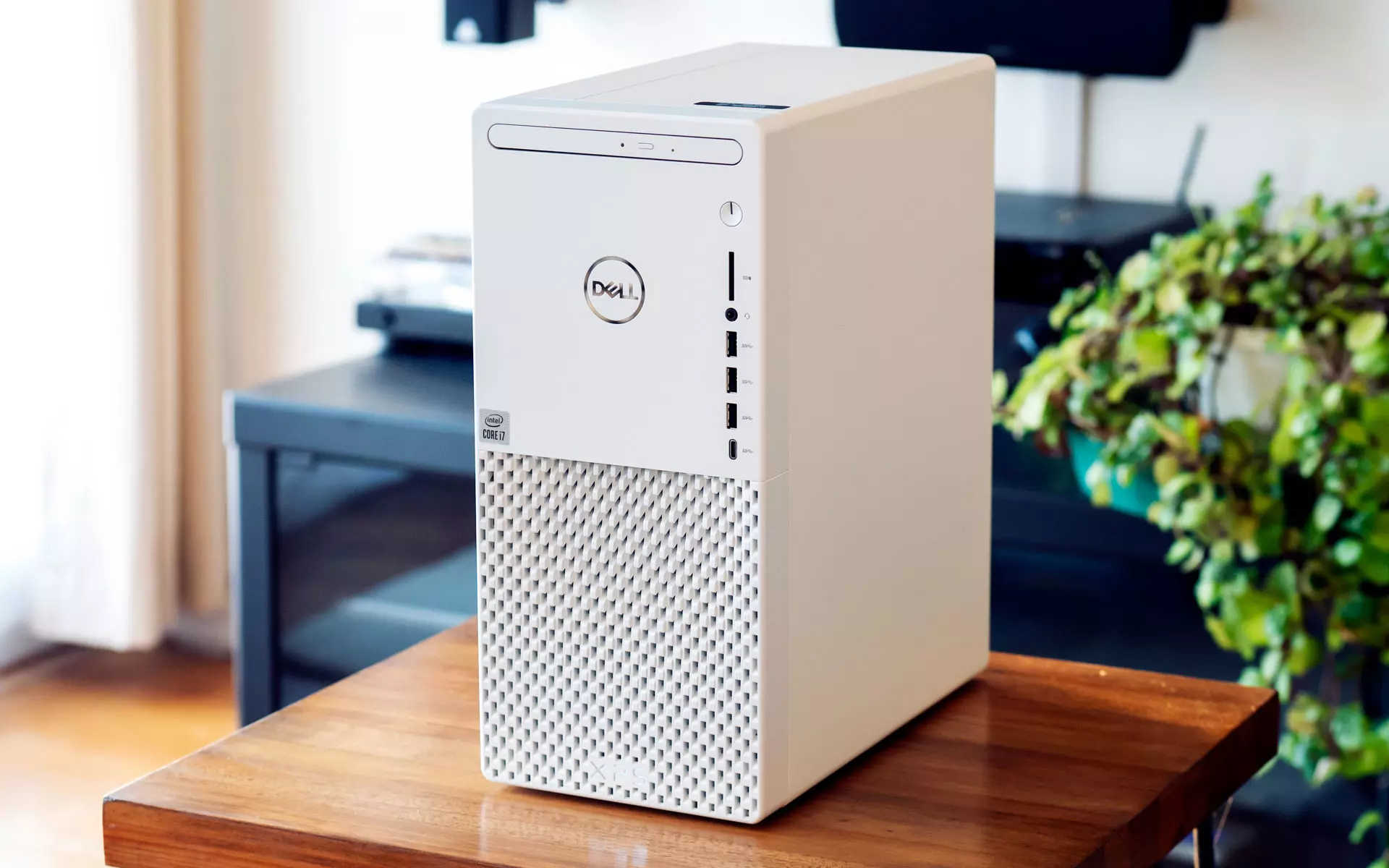 According to Dell, the XPS 8940 Special Edition allows users to "create without limits" with a machine that features minimalist design and maximum expandability. Starting at just under $1100, the XPS 8940 Special Edition is good for a lot of video creators' budgets without losing performance. Its compact design makes it a winner for users with limited desk space who aren't looking for a laptop. Users on a budget appreciate the low price, especially as you can upgrade and customize this desktop later on after your initial purchase. So, if you're looking for something to get started that can grow with you, this might be the choice for your editing needs.
Key features:
Up to Intel Core i9-11900K CPU
Multiple ports for expandability and accessories
Optional DVD or Blu-Ray drive
Pros:
Customizable after purchase
Multiple types of ports, including USB type-C and SD card slot
Affordable and high-end build options
Cons:
Cost of higher-end configurations
Not compatible with cards larger than RTX 3070
Very basic keyboard and mouse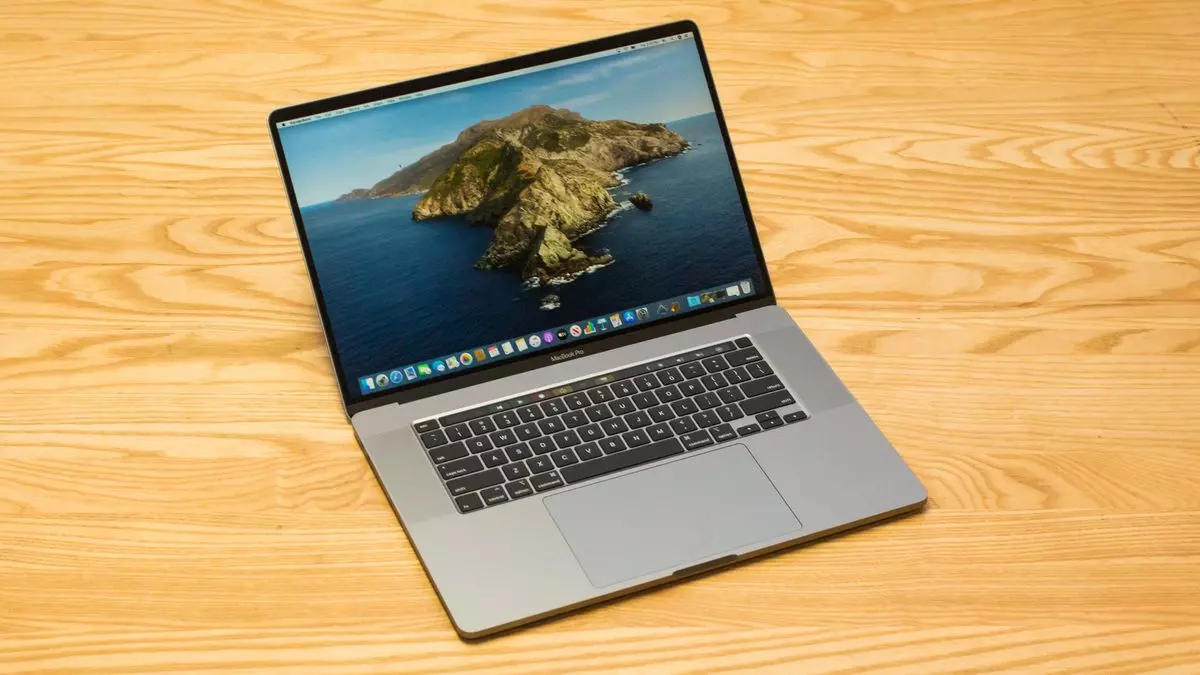 Reviewers have raved about the Apple MacBook Pro 16-Inch. It's the most powerful MacBook that Apple has ever produced, giving users the convenience of a laptop with the performance of a tower. The 16" screen is large enough to perform well with most video editing projects, and the Retina display offers the visual experience editors look for in a laptop or desktop for video editing. It only includes four Thunderbolt ports, though, which can be hindering for some users.
Key features:
Up to 8 TB SSD storage
AMD Radeon Pro 5000M graphics card
Up to 8-core CPU
Pros:
Fast rendering and processing
Great sound for a laptop
Very high storage capacity for a laptop
Cons:
High price
Only has four Thunderbolt ports for accessories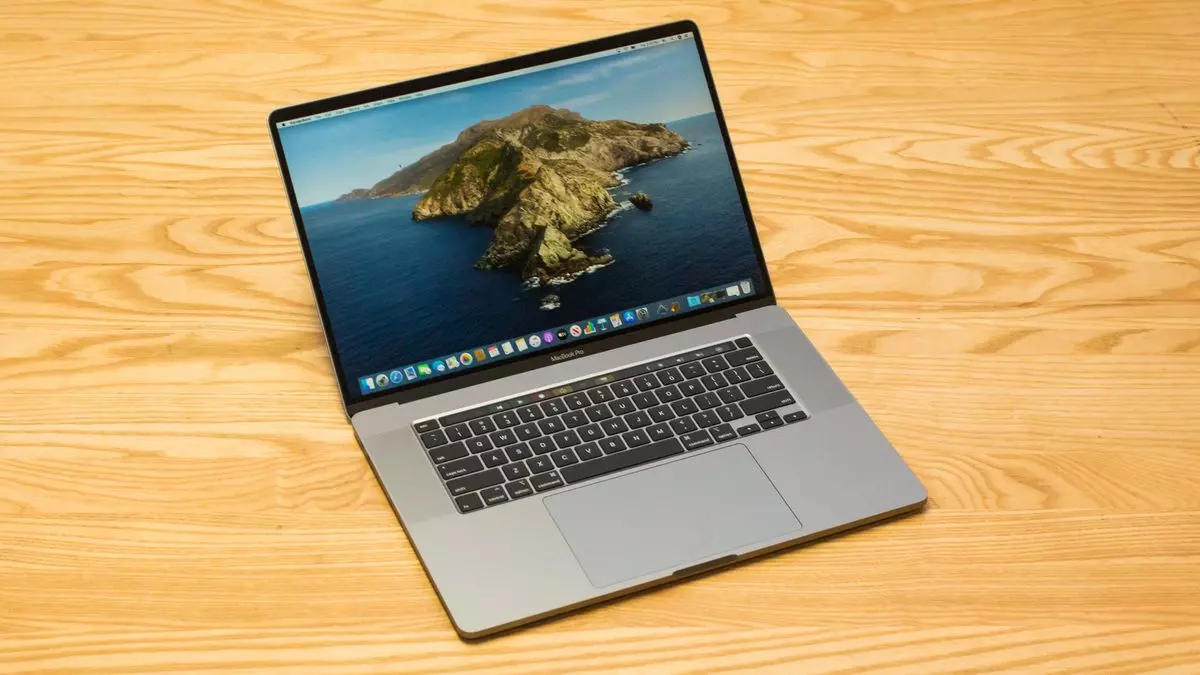 For users looking for a PC laptop for video editing, the Lenovo Legion 7i is a strong option. While some users complain that it lacks aesthetics, veteran video editors will appreciate its solid chassis and fast processing power. The Legion 7i can be built with up to a 10th-generation Intel i9 HK-series CPU, and up to an Nvidia GeForce RTX graphics card, making it ideal for editing large projects in 1080p or 4K. If you're looking for a sleek, lightweight laptop, though, this one may not be the best option for you.
Key features:
720p webcam with privacy shutter
Automatic heat detection and fan management
Lenovo TrueStrike keyboard
Pros:
Solid design and construction
Lots of storage (2 TB SSD)
High battery life
Cons:
Heavy compared with similar laptops
Design could be more attractive for the price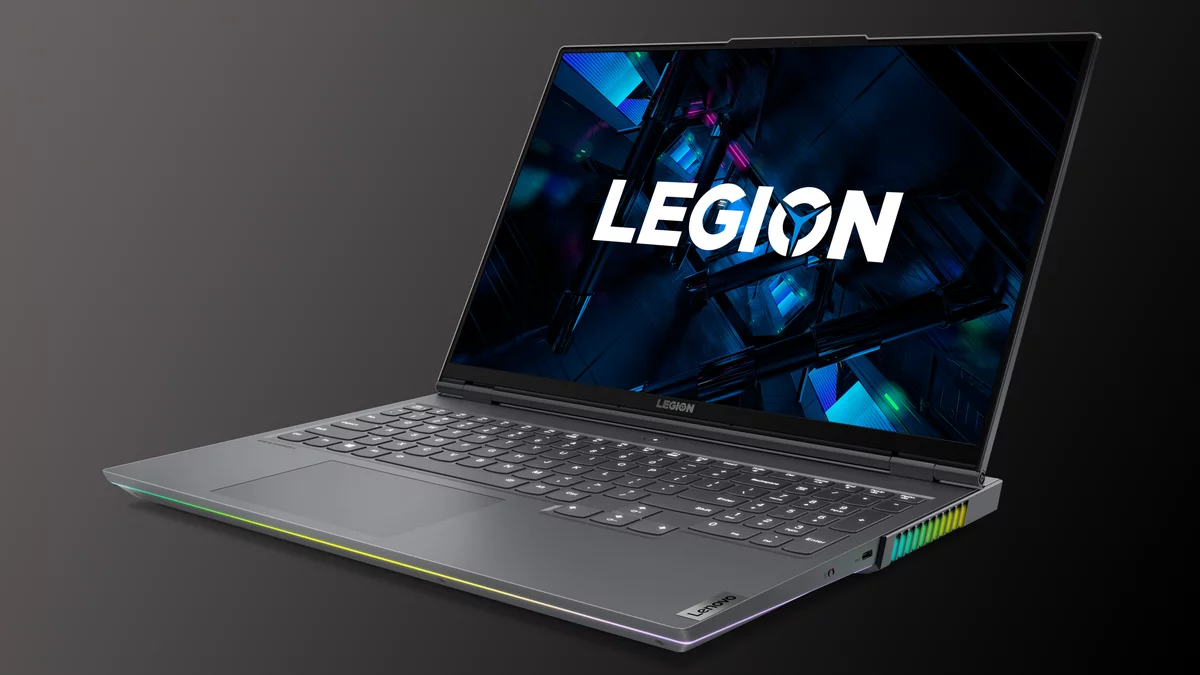 The new Dell XPS 17 (9700) is a redesigned reboot of the original Dell XPS laptop. The new design features a 17-inch monitor with longer battery life and more processing power than previous generations. With its large display, it can handle up to 4K videos for editing, rendering, and viewing purposes. Users can opt for the Nvidia GeForce RTX 2060 graphics card for top video performance.
Key features:
Nvidia GeForce RTX 2060 Max-Q graphics card
6 GB video RAM
USB-C ports support Thunderbolt 3
Pros:
Large display with high-res capabilities
Compact for its size
Excellent audio and video quality
Cons:
Expensive for a high-performance version
Power drain when working with high-resolution videos
Does not include a USB type-A port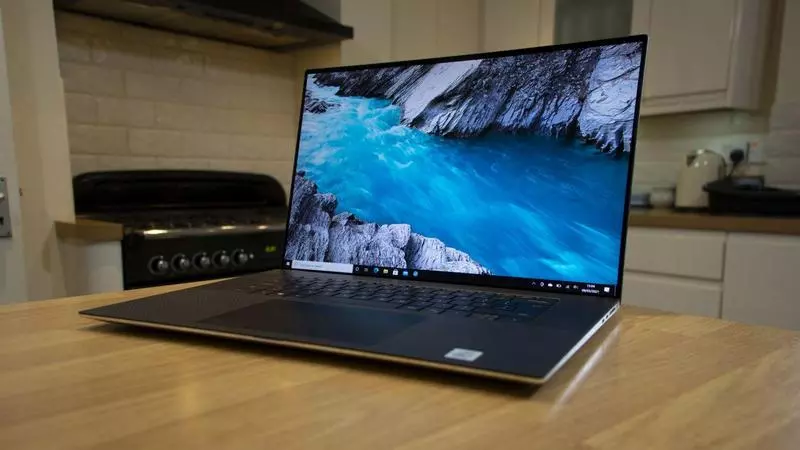 The HP ZBook Create G7 Notebook is a laptop designed for creative professionals. While users on a budget may balk at the price, it's great for pros who want the power of a desktop and the portability of a laptop. With a top-level graphics card and Windows 10 Pro 64, video editors love working anywhere with the ZBook Create G7, but some complain that the laptop runs a little hot when working with high-resolution or heavy-processing projects.
Key features:
Comes with Windows 10 Pro 64
15.6" display
NVIDIA® GeForce RTX™ 2070 graphics card (8 GB GDDR6 dedicated)
Pros:
Impressive audio and video capabilities
4K OLED monitor
Sleek design
Cons:
Expensive
Some issues with cooling under heavy processing
No HDMI output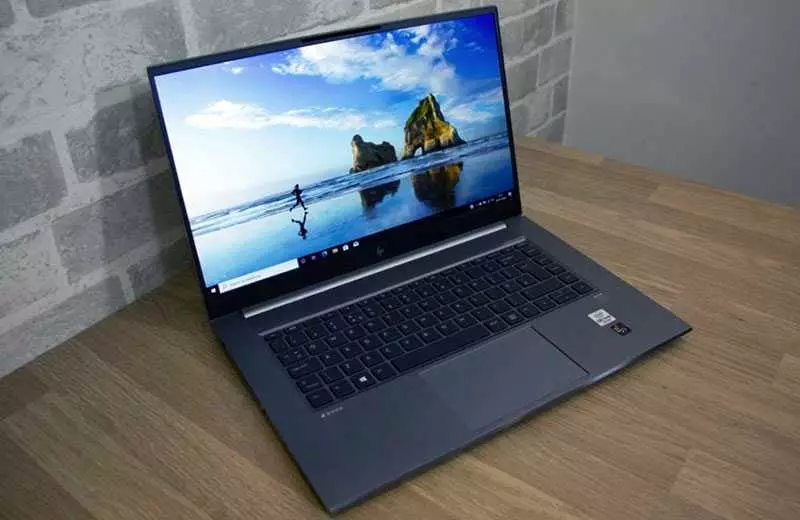 Asus calls the ZenBook Duo 14 "the laptop of tomorrow." This laptop is created with pros in mind who are on the move and need the freedom to create cool videos and work from anywhere. It boasts a slim build that's light and convenient to take with you, but Asus did make some performance compromises to accommodate for the ZenBook Duo 14's unique design and price. Some users have complained that the keyboard is cramped and uncomfortable to use. So, if the ZenBook is your top choice for a video editing laptop, you may want to consider an external keyboard, as well.
Key features:
Shortcut buttons and hotkey options
Windows 10 Home or Pro options (and free upgrade to Windows 11 when available)
Up to Intel Core i7-1155G7 CPU
Pros:
Dual-screen design
Slim design, lightweight
Thunderbolt 4 ports
Cons:
Cramped, uncomfortable keyboard
Small touchpad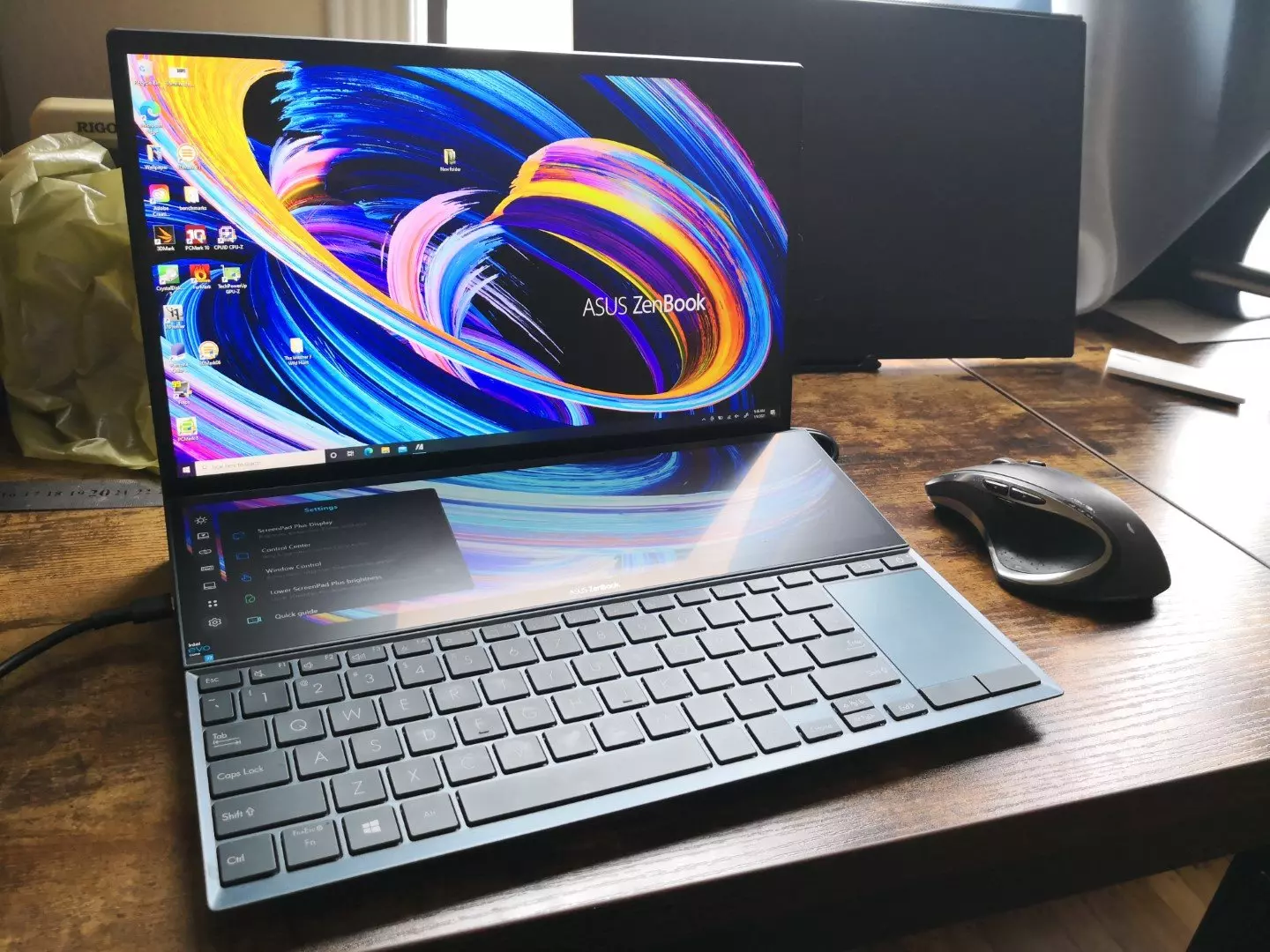 Looking for desktop power in a laptop chassis? The Acer ConceptD 7 Ezel is an impressive option. Its touchscreen lets you use it like a tablet with a stylus for precise photo editing and video effects creation. It also includes multiple display modes for different uses and works well for creating and presenting video presentations. The Nvidia GeForce RTX 3080 laptop GPU gives video editors a lot of graphics power for high-resolution video projects, but be prepared for a laptop that may be a bit heavier and more cumbersome than a lot of today's slimmer models.
Key features:
Float mode for easy touchscreen work
Multiple display capability
Backlit keyboard
Pros:
Beautiful white aluminum chassis
Precision drawing capabilities
Good battery life for the performance
Cons:
Cumbersome for a 15.6" laptop
Loud fan noise
Warranty only good for one year
We hope you now have all the information you need to choose the best computer for your video editing projects. Whether you're a professional video creator and editor or you're getting into a new hobby with content creation, streaming, or performing other video editing tasks, you'll need a computer that can keep up with your performance requirements. Remember, as you compare and contrast the PCs and Macs in this list, that your priorities and the features you choose should reflect how you'll be using the computer. To recap what to look for when choosing a computer, remember to consider:
CPU – The "brain" of your computer, the processor (or CPU) size and speed will determine how well the computer handles tasks like rendering large video files.
HDD v. SSD – Hard disk drives are less expensive than solid state drives, but SSDs are more reliable, faster, and run smoother with a longer lifespan.
RAM – How much memory will you need to store projects? If you want to save money by opting for a machine with less RAM now, make sure that it can be upgraded if you need it later.
Monitor resolution – Whether your monitor comes with your computer (e.g., if you get a laptop) or not, you'll want to make sure that it has a high enough resolution to work well with your video projects. We recommend at least 3,840 x 2,160 pixels.
Graphics – We highly suggest choosing a computer with the best graphics card and most graphics memory that you can afford. And, before you buy, find out if upgrading your graphics card is possible later on.
Budget – Last but not least, how much are you willing to spend? Computers are expensive, but if you prioritize the right features, you'll most likely be able to find one in your budget that will do everything you need it to do.
Keep this list of considerations in mind, and don't forget to check out the comparison table above to see side-by-side features and capabilities for your top video editing computer choices. Good luck, and happy editing!