Best free MP4 video editors in 2021
MP4 is supported by smartphones, cameras, gaming devices, and other video-playing gadgets, making it the most commonly played video format globally.
If you want your video to get such wide viewership, it'll have to be in this format, but that means you might need to figure out how to edit an MP4 video. It would be best to invest in high-quality, professional-grade MP4 video-editing software so you'd get crisp videos every time.
But not everyone can afford these high-end tools. In that case, you can find free MP4 cutter tools and free editing apps to cut and style your video the way you want to.
Here is a list of some of the best MP4 video editor freeware, suitable for various editing purposes as well as professional and personal use.
Best MP4 video editor freeware: comparison table
Many kinds of video-editing software can easily be found online, but not all are built equal. Explore the leading free video edition tools, explore their differentiating features, and choose the suitable freeware for you:
| Software | OS | Easy to use | Pros | Cons |
| --- | --- | --- | --- | --- |
| Movavi Video Editor | Windows, Mac | Yes | Intuitive interface, easy export options, user-friendly, great titles, transitions collection, built-in music tracks, fast processing, etc. | No audio meters, no advanced text-editing options |
| VSDC Free Video Editor | Windows | Yes | Non-linear video-editing capabilities, 4K and HD support, subpixel accuracy, YouTube uploader, DVD burning tool, masking, etc. | Paid professional tools, no video stabilization in the free version, no audio waveform, no hardware acceleration features. |
| | | | | |
| --- | --- | --- | --- | --- |
| EaseUS Video Editor | Windows | Yes | Simple and accessible interface, a vast range of effects and transitions, multiple overlays, easy-to-use, low in price, etc | Limited video-editing options, text effects, and UI |
| Clipchamp | Windows,Mac | Yes | Collaboration tools, customizable branding tools, privacy options, drag and drop, social sharing, etc | Slow processing, low-quality resolution |
| Freemake | Windows 7 and above, Android, iOS | Yes | Uploads clips to YouTube, video converter for any device, converts movies with subtitles, converts files to over 500+ formats, etc | Slow conversion, infrequent updates |
| Movie Creator | Windows 10 or higher | Yes | Built-in, easy to use, easy navigation, etc | Freezes, crashes, no uninstallation option, slow |
| iMovie | Mac, iOS | Yes | Effects and enhancements, easy sharing, user-friendly interface, etc | Takes up more space, costly, complex |
| Fastreel | Online | Yes | Many editing features, no download required, built-in templates and music library, intuitive interface, etc | Size limit for uploads, limited input formats, one output format |
| Microsoft Movie Maker | Windows | No | Supports MP4, MOV, AVI, WMV, M4V, and more; drag and drop functionality, customizable speed and transitions, direct uploads, etc | Highly crash-prone, numerous versions of the same software, not available anymore |
| Avidemux | Windows, Mac, Linux | No | Lightweight, fairly simple, offers a wide range of filters, provides a command-line interface for professionals | Outdated interface, difficult to use for beginners |
| Lightworks | Windows 7 or newer | No | Customizable screens, amount of video-editing options, high video quality, flexible, professional-level features | Crashes occasionally, the steep learning curve |
| DaVinchi Resolve | Windows, Mac, Linux | Yes | Professional tools, modern and sleek interface, well-divided editing modules, output on media and delivery pages, well-organized, etc | Complex interface, steep learning curve, no integration with external software |
| HitFilm Express | Windows, Mac | Yes | Stylish interface, muzzle flash effects, change backdrop, blaster impacts, lighting effects, screen simulation, etc | Social media sharing accessible with download, cannot import or animate 3D objects |
Disclaimer: We use affiliate links to the products mentioned on this page. When you click an affiliate link and make a purchase, we receive commissions. If you want to support our portal, you can use the links. Otherwise, you can find the recommended products using a search engine.
Free MP4 editors for beginners
If you need to edit an MP4 video, but you don't have enough budget to invest in expensive video-editing software, check out the following best free MP4 editor tools for beginners.
Free professional MP4 editors
The following are some professional MP4 video editors that offer a host of advanced features and tools.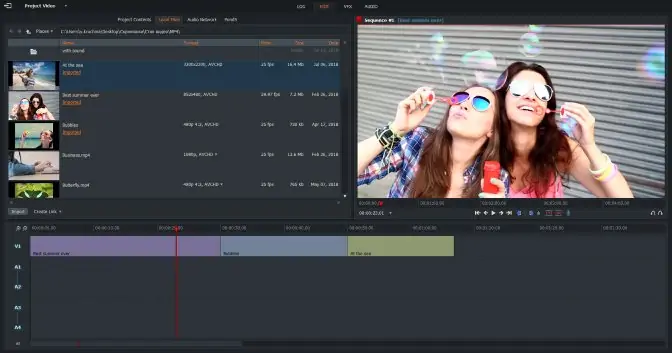 Lightworks is one of the most innovative free professional MP4 editors. It allows the experts to add custom effects and explore different aspects of the video creation process. Thanks to a simple, user-friendly interface and a tight timeline, you can use this tool to trim and weave various audio and video files with just a few mouse clicks. It also allows easy import and export options for users.
This tool also includes pro-grade color correction, GPU-accelerated real-time effects, video capture function, and broad video format support.
Pros:
Tailored screens
Many video editing options
High video quality
Flexible
Professional features
Cons:
Crashes occasionally
Steep learning curve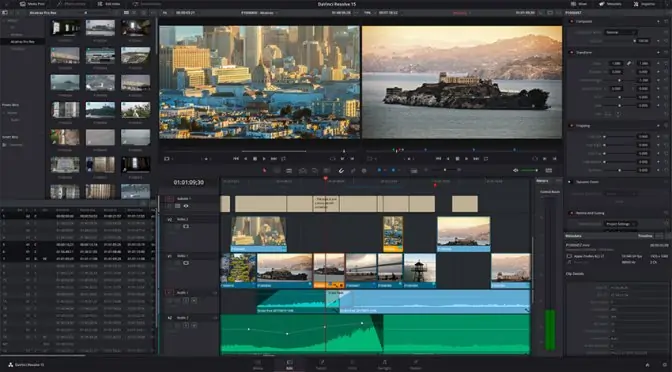 DaVinci Resolve is a powerful free MP4 video editor software that offers all-in-one post-production solutions along with audio, video, and color-correcting tools. Also, its multi-user collaboration feature helps users in communicating with their colleagues or peers.
Although it's free and easily accessible, it is a complex software with a vast array of features that can be overwhelming for beginners.
Pros:
Professional tools
Modern & sleek interface
Well-divided editing modules
Output on media and delivery pages
Well-organized
Freedom to switch between workspaces
Multi-tasking
Cons:
Complex interface
Steep learning curve
No integration with external software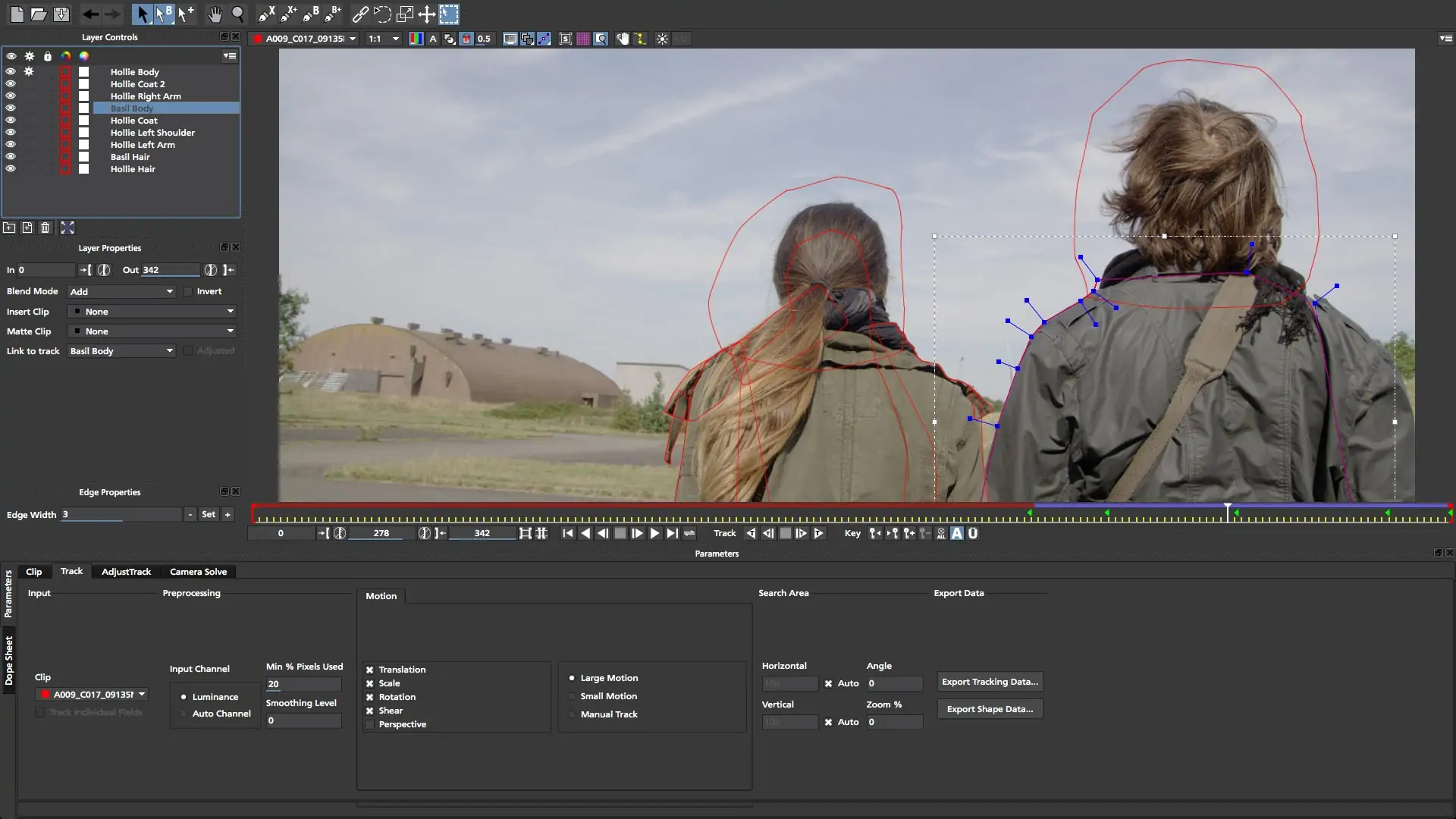 HitFilm Express is a 360-degree video editing and visual effects software that allows users to import clips and add effects to them. It has a free version compatible with both Windows and Mac OS.
Also, it offers tutorials that allow new users to create clips and effects from Hollywood products like Star Wars, Portal Combat, and 310 To Yuma.
With a bit of practice, you can highlight blaster impact through advanced tracking techniques, lighting effects, and numerous portal designs. It's also possible to import and animate complex 3d models, enhance the iconic heads-up display, and apply masking and layering techniques with this freeware.
Pros:
Stylish interface and VFX tools
Advanced Tracking
Screen Simulation
Offers exclusive effects (Footage Distortions, Muzzle Flash Effects, Lighting Effects)
Blaster Impacts
Cons:
Lacks the ability to import and animate 3D models
Social media sharing required for download
Frequently asked questions
💻 How can I edit MP4 files?
The easiest way to edit MP4 files includes uploading the MP4 file to web-based MP4 video editing software. The tool then allows you to extract audio from video, merge two different videos, compress them or convert them online.
📹 How can I edit MP4 files for free?
Edit your MP4 files for free using the free MP4 video-editing software that is web-based or downloaded from the internet.
💻 How can I edit a large MP4 video?
Edit a large MP4 video by trimming or cutting it down into clips. However, suppose you want to edit it as a whole video. In that case, you can opt for video editors like Windows Movie Maker, Avidemux, VSDC, and many others that allow you to edit large MP4 videos.
🎥 Does Windows 10 have a video editor?
Windows 10 does have a Video Editor. It is a full-fledged video creation and editing software that enables you to tell your story with music, text, motion, 3D effects, and so much more.