Best gaming video-editing software
Gaming reviews and livestreaming are bigger than ever, and gaming videos are getting more advanced and more engaging by the day. To make successful gaming videos, you need a games video maker with all the right features and effects to make your videos pop. Let's take a look at some of the best gaming video-editing software options available today.
Professional gaming streamers rely on Movavi's chroma key feature!

No watermark on the free version, and tons of social presets.

It works on Mac, Linux, and Windows for easy collaborations.

The UI is so easy, anyone can pick it up and make a fun video!

Unlimited tracks make it easy to add lots of effects and layers.

With HitFilm, you pay for the features you want to use, nothing else.

Video-editing isn't just about the visuals – great audio is essential!

Get the most precise color corrections and controls with this program.

Create videos and cool animated clips with a full animation platform.

Easily extract audio and save files in any format you want.

Easy multi-camera and 3D editing to create cool VR videos at home.

Easily edit sound within each audio track on a video-editing project.

Final Cut Pro feels familiar – because it's the original!

Add your clip to an existing video – and make it look good!

Advanced integrated video cache technology speeds up downloads.

It has all the tools and templates gaming video creators need!

Incredibly user-friendly with lots of control over audio editing.

Save large (or small) files directly to your preferred platform.

Use templates and iStock media to enhance your videos.

Users can easily work together – plus, it has multiple integrations.
Disclaimer: This post contains affiliate links. When you click an affiliate link and make a purchase, we receive commissions.
Best video editors for gamers: desktop apps
Best online video editors for gaming videos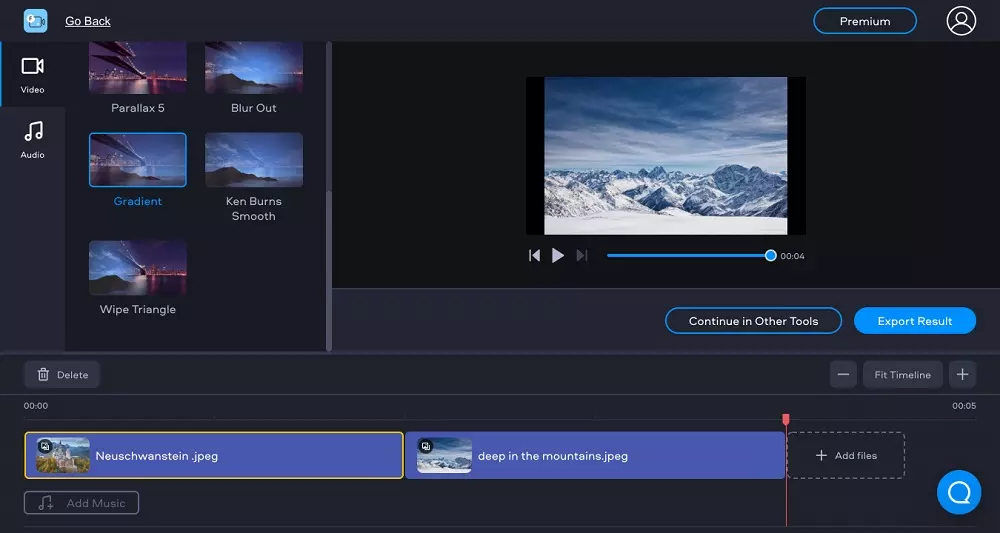 For gamers on the go and creators who may not have the freedom to download a video-editing program onto their local computer, Fastreel by Movavi is a convenient and powerful online editing option. With Fastreel, users have the option to choose between online tools to do specific video-editing tasks or starting from scratch with a video template.
So, let's say that you have two video clips that you need to merge into a seamless, attractive video. Just click on Fastreel's online video merger, drag-and-drop your clips to upload them, and follow a few simple steps to merge your clips and add any transitions or other effects you want. Then you can simply choose the file format you want for your final product and export your newly merged clips in a single video.
Other editing tools on the site give you the ability to create a video or slideshow, cut video clips, add watermarks, resize videos, create montages, and add a ton of effects – like stop-motion, filters, and split-screen. If you're feeling overwhelmed by all the tools and you don't know where to start, check out all of Fastreel's online video templates. These will help you easily create all kinds of videos, from advertisements and trailers to cooking videos, explainers, holiday greetings, and more. With all these features and tools, Fastreel may be the best video editor for video games online. Plus, it's very affordable with a free version and one-time premium exports priced at $5.95 per video or unlimited premium exports at $9.95 per month.
What are its best features?
Individual tools make online video-editing fast and easy
Library of video templates gives beginners and pros a great place to start with any video
Text tool gives users an easy way to add titles, subtitles, and captions
What could be improved?
Add chroma key tool
Give users the option to use more than one tool at once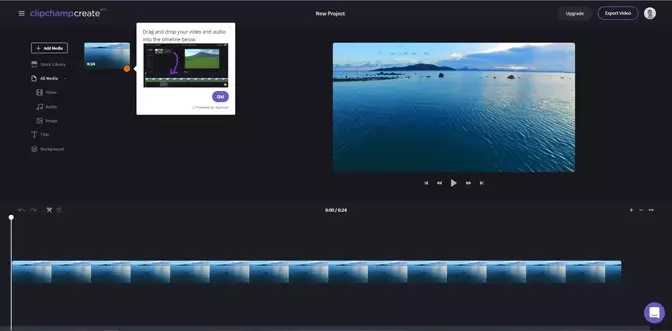 Clipchamp offers four subscription levels for users who want to edit their videos online without downloading any software. The basic version is free, but the developers stipulate that it's limited for personal use only. With this version, you can export as many videos as you want, but you'll be restricted to 480p resolution.
Moving up to the Creator subscription, you gain more resolution, but you're still limited to 720p. You do get access to unlimited stock audio files and unlimited cloud storage for your videos, though. At the Business level, you get all of the features of the Creator subscription, plus 1080p exports and access to Clipchamp's brand kit, at $19 per month. If that's not enough for you, you can opt for the Business Platinum subscription, which adds unlimited stock videos and images along with all of the perks of the Business subscription.
As far as online editors go, Clipchamp is fairly robust. It includes the most popular editing tools and gives users the ability to customize video templates for later use. However, it doesn't include some of the more advanced features that many gaming video creators like – such as chroma key and split-screen tools.
What are its best features?
Color balancing and filters help users create attractive, uniform videos
Includes multiple audio tracks for easier editing
Drag-and-drop video and audio clips for easy access
What could be improved?
Offer 4K resolution on file exports
Add motion tracking tools
Processing could be faster for the quality level of the output videos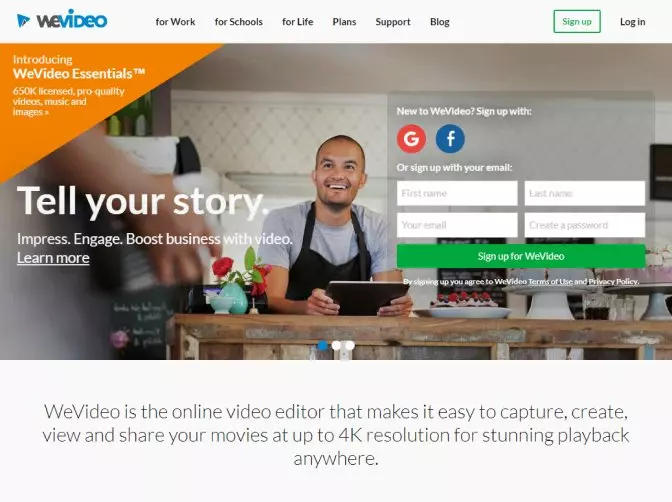 WeVideo is a paid online video editor with a free trial version. The free version is limited to 5 minutes of video (up to 1 GB) per month with resolution restricted to 480p. At $9.99 per month, users can edit up to 30 minutes of videos per month and export up to 720p, with added features that aren't included in the free version – such as slow motion, green screen, and motion titles and templates. While this is affordable, it's also fairly limiting, especially for gaming video creators who may make multiple videos per week.
As you go up in price, you get increased resolution with 4K capabilities starting at $39.99 per month. At this level, you get access to almost all of the features and functions of the editor, including the ability to record your screen and webcam at the same time and upload files directly to social platforms. The only big advantage to the top-tier subscription at $73.99 per month is the capability to add users, collaborate, and share projects with your team.
While this app is more expensive than many others, it does also come with cloud storage – so you don't have to finish all of your edits in one session or risk losing them. The Professional and Business packages ($39.99/month and $73.99/month, respectively) have 4K export capabilities and other additional features.
What are its best features?
Color correction tools are useful and easy
Lets users export to cloud storage and video sharing platforms
Motion titles library offers some cool title animations
What could be improved?
Offer more features (like a green screen) in the basic version
Add an auto-save function in case of crashes or network outages
Allow HD exports at lower price points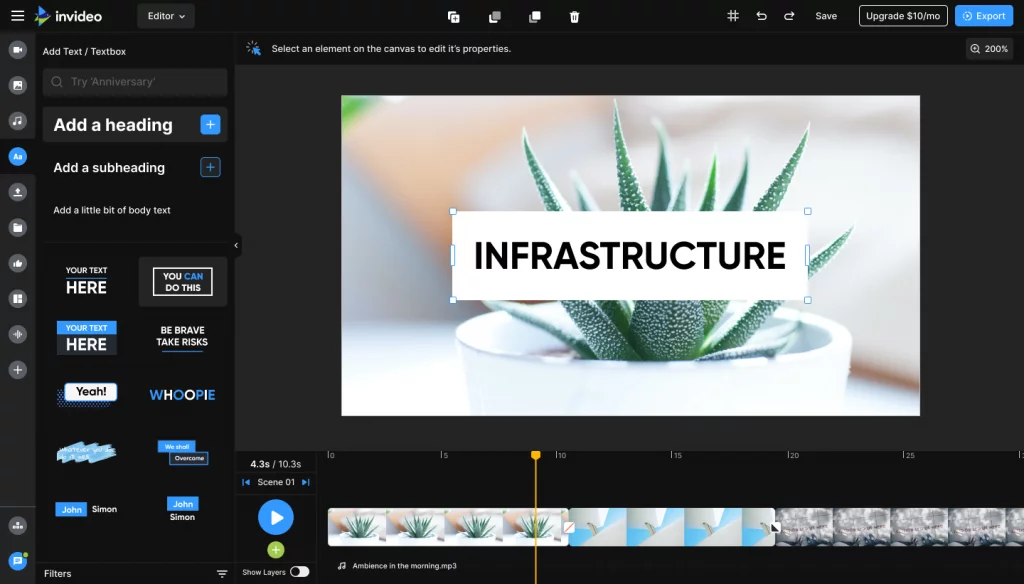 InVideo is another option for gaming video makers who want to do their editing online. Pricing ranges from free to $30 per month, and you can get the InVideo watermark removed at $15 per month. If you don't mind a watermark, the free version offers more freedom than some other options, but you will still have some limitations. For example, unless you opt for a paid version, you won't be able to edit projects longer than 15 minutes. The middle-tier option adds access to 10 pieces of iStock media per month and lets you export up to 60 videos each month. You'll need to pay for the premium version if you want unlimited exports and access to more iStock images and media files. The free version does allow up to 720p resolution for video exports, which is more than some other online editors allow.
What are its best features?
iStock images and videos help creators add cool visuals to their videos
Lots of available templates for easy video creation
Multiple fonts for attractive titles and captions
What could be improved?
Make it possible to switch between templates without losing progress
Speed up processing for exports
Allow higher resolution exports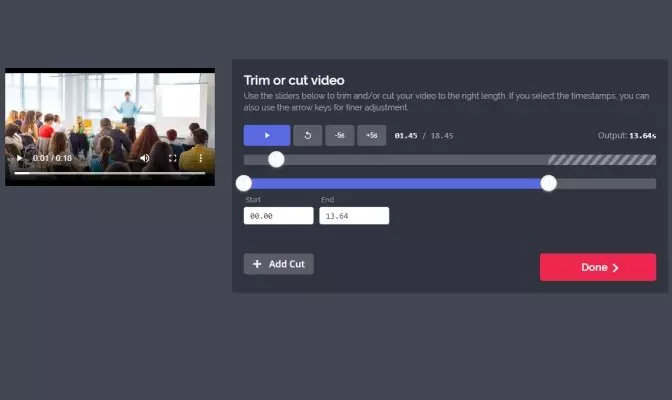 Kapwing is an online video editor with both paid and free subscriptions. The free version includes almost all of the editing features and tools included with the premium version, but users are limited to 250 MB uploads.
Further, export videos can be no longer than 30 minutes, and you can only publish up to three hours of videos per month. Of those limitations, the file size is probably the most restricting, as video files can get much larger than 250 MB very quickly – especially if you're working in higher resolutions. For $16 per month, you can be free of these limitations, though, with up to 6 GB file uploads and exports up to one hour in length. The good news is, there aren't any watermarks on export videos, even when you use the free version.
What are its best features?
Multiple tracks offer a high-quality user experience
Collaborative tools help video creators work together
Integrations with Giphy, Pexels, and Unsplash offer easy resources for video makers
What could be improved?
Offer 1080p exports in the free version and 4K in the paid version
Give users a feel for premium features in the free version
Give users longer than 2 days to edit and store their projects on the free version
Summary: Get the best games video editor in 2022
So, what do you think? With all of the editors we reviewed, we hope you've found one that appeals to you and your needs. As you compare editors, remember that the right one must work with your computer or preferred browser, and it needs to have the right features at the right price. Before you make your final decision, why not try out Movavi Video Editor on your computer or check out Fastreel online? Let us know what you think!