Best slideshow makers
If you're looking to captivate an audience with an exceptional slideshow, you'll need a solid program to make it happen. And there are definitely a lot of slideshow makers out there. To help you with your search, we've compiled a list of the best free slideshow makers for Windows 10, macOS, and on mobile and online.
A dedicated slideshow program with tons of features, music, and extra downloads available.

You can do more than edit videos with iMovie! Create great slideshows with a variety of transitions.

It doesn't have all the bells and whistles, but it creates good slideshows!

The quick preview feature allows you to try different effects before application to save time.

PhotoStory Deluxe is perfect if you need support from templates to create presentations.

Connect the app to your camera roll, select photos, and you'll have a slideshow in minutes!

Between the transitions, text, and effects, you'll never get bored with the variety!

PixGram doesn't bog you down with a lot of themes and animations. Instead, you get an intuitive interface and fast slideshow creation.

The app processes at high quality, so it's great for connecting with high-def monitors.

A slideshow maker with an easy-to-use interface, a variety of tools, and nothing to download.

If you need a slideshow quickly, Clideo is super fast in helping you put everything together with haste.

With thousands of templates to choose from, Animoto can help you put together a slideshow in any situation.

Kapwing allows you to upload photos and videos from cloud storage, your computer, or directly from Twitter or YouTube links.
Disclaimer: This post contains affiliate links. When you click an affiliate link and make a purchase, we receive commissions.
Top slideshow creators for Windows and Mac
Best mobile slideshow makers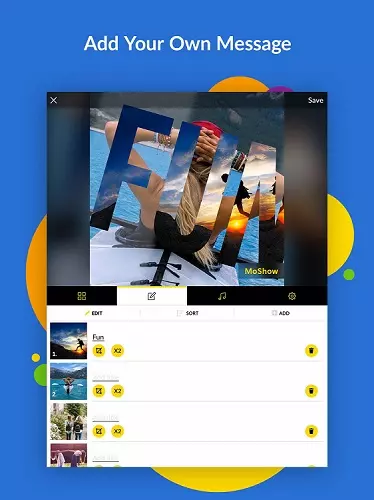 MoShow is an 'every person' application that can help you create beautiful slideshows on your mobile device. When you open the application, it immediately displays the featured slideshow templates. Within minutes, you can choose photos and have slideshow previews in multiple styles.
The interface is easy to use. You just tap on the 'Make a MoShow' button and the interface will take you to an enlarged version of your camera roll. Selecting and deselecting is done with a quick tap and when you're ready, just hit 'Add'.
From there, you're able to customize your transitions and add in effects. There are cool effects like 'Pencils' that make images appear as though they're being drawn and colored. If you find some favorite effects during your creation process, you can add them to a favorites list.
After creating your slideshow, you can adjust your photos individually and add music from a nice selection of tunes. This makes it one of the best slideshow makers with music. After that, you can instantly share or send it to anyone through messaging apps or social media or save it via cloud storage.
What are its best features?
Nice selection of slideshows
Easy social media integration
Crop, insert text, and photo rearrangement
What could be improved?
Difficult to edit "Portrait Mode" photos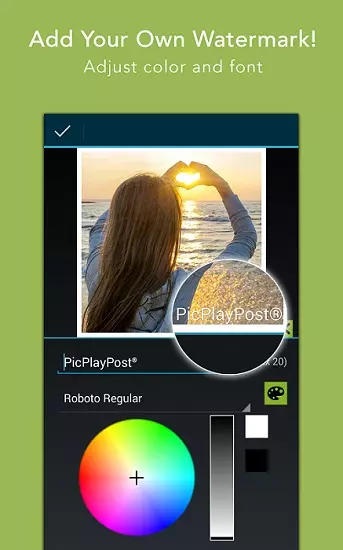 With 15 million users, PicPlayPost is definitely one of the most popular slideshow applications available for mobile. It makes sense, as this program doubles as a collage and video wallpaper creator and doesn't have a lot of fluff in its features.
For the slideshow maker, you're able to create presentations using videos, photos, GIFs, stickers, and you can even integrate photo collages from within the app. At 30 minutes and 365 pics, the slideshows have some limitations, but it's equipped with app-specific transitions and a lot of music to add to the background.
Text-wise, the app has a lot of cool functionality with animated texts, customized text boxes, and a wide range of fonts and animations. You can also attach your text to moving objects within your pictures and collages and change its perspective. Plus, you're able to integrate stickers from Giphy into your slideshows with that same functionality.
PicPlayPost comes loaded with transitions that are easy to integrate into your slideshows. It also helps that the app has support for a variety of ratios, so the picture and transition movements don't look awkward.
Last, if you don't want to do much tapping, the app has an automated slideshow feature where you can select the photos, and it does the rest.
What are its best features?
Wide range of transitions and text effects
Integration with photo collages and GIFs
Sticker integration from Giphy
What could be improved?
Free version has watermarks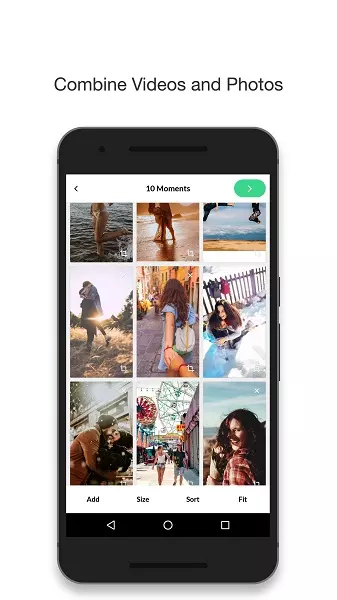 If you need straightforward slideshow creation on your phone, then PixGram is the perfect application. It's a 1, 2, 3 process with no crazy themes, stickers, or animations to deal with.
The program integrates with your phone's photo and video files, and the interface is easy for tapping and selecting photos. Once you've selected your photos, you can crop and resize each individually or you can do them all in bulk in either portrait, landscape, or square for social media. You can also sort files for the slideshow from their date stamp or have them all fill or fit the display area.
With the photos organized, there are features to add music, set your presentation or slide duration, add titles, or add one of the many available filters to the entire presentation. PixGram will then render the presentation and save it to your media library as an MP4 where it's easy to save to cloud or share on social media.
What are its best features?
Does a good job of fitting pictures into the slideshow
Has a feature to sort photos by date
What could be improved?
Music doesn't play longer than 30 seconds
Rendering isn't very fast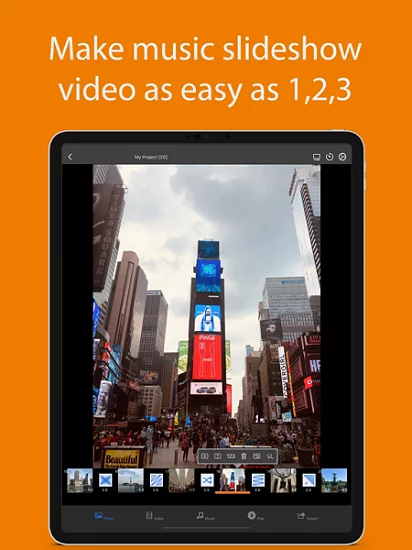 Photo Slideshow Director allows you to create professional-looking slideshows on an iPhone or iPad in a matter of minutes. It's as easy as selecting photos and/or videos, setting background music, and you'll instantly have a presentation.
However, if you want to do a little more, there are plenty of customization features available. You can select from six themes that automatically adjust the colorization of your photos. It will also apply transitions to your photos, but you can select from 57 different transition effects to give the presentation a little more zest.
When you're done, this application is great for connecting with a high-definition monitor as it processes photos at a top quality.
What are its best features?
Wide range of transitions for a mobile app
Themes do a lot to help with colorization
Great for sharing via cable connection on a high-quality monitor or TV
What could be improved?
The interface is a little buggy. Some have stated they have issues uploading photos or photos showing in the slideshow
Limited export features, and doesn't integrate with social media
Best online slideshow makers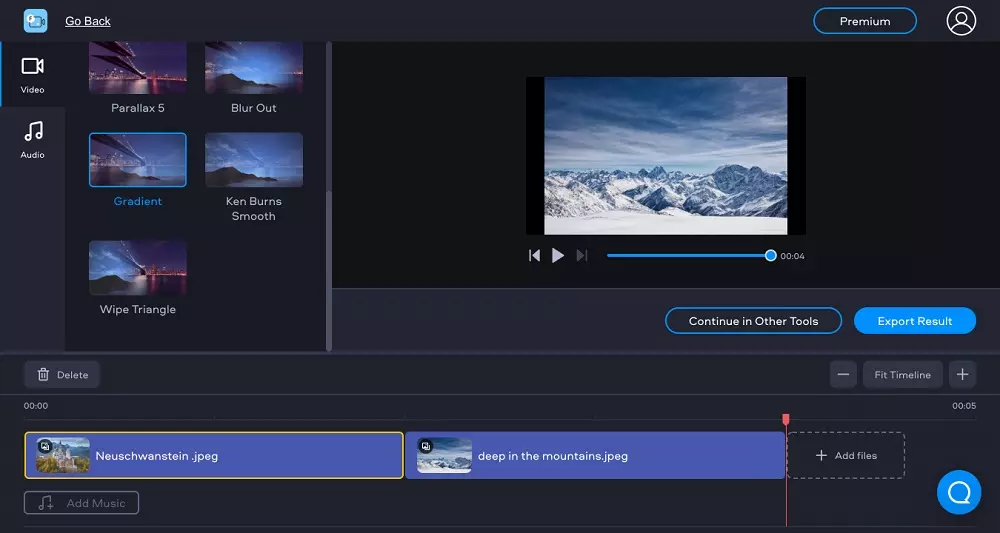 Fastreel is Movavi's online video editor that doubles as one of the best online slideshow makers available today. So there's no downloading or installation. Just go to the site, upload your photos, and create professional slideshows. The program is simple, fast, and easy to use, and it's perfect for beginners or professionals.
For uploads, you can choose from a variety of common file formats like AVI, MKV, MOV, PNG, JPEG, WMV, and even GIFs for a combined total of up to 500 MB. And you can upload from either Dropbox or directly from your computer.
Once you upload, Fastreel takes care of most of the hard work. You can select from a variety of templates specific to different themes and then select your photo slide duration anywhere from 1 to 10 seconds. The template will add transitions, but you can customize them to your liking from six different styles. You can also select the aspect ratio of your slideshow based on where you plan to share it.
For music, Fastreel has a comprehensive selection of royalty-free music files to choose from. Or you can upload your own audio file to create something more personal.
Overall, the interface is intuitive and runs via drag and drop or you can click to find your files directly. It's the perfect solution for anyone who needs a free slideshow maker and doesn't want to download and install software.
What are its best features?
Allows up to 500 MB of photos or videos for upload
Integrates with other Movavi tools
Slide duration goes all the way to 10 seconds
Add music from the Movavi collection or upload your own
What could be improved?
Watermark with the free version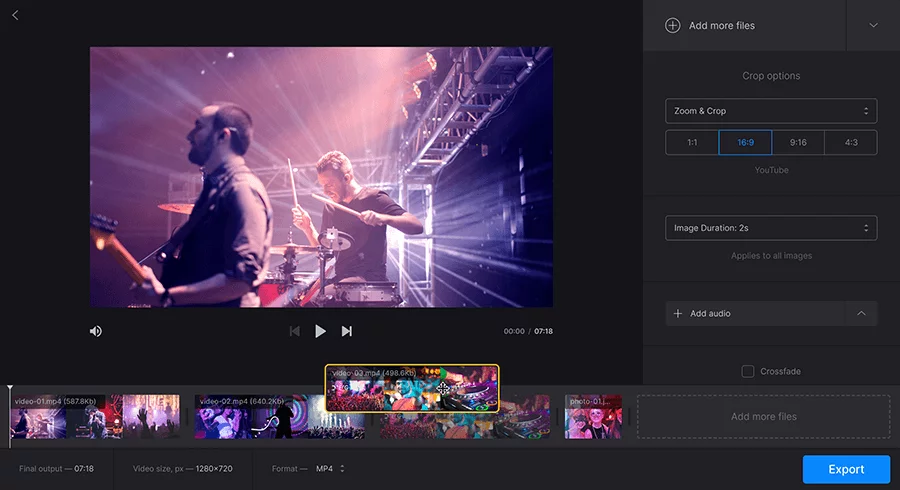 Clideo is a simple, quick solution for anyone who wants to make a slideshow. You can upload files from GoogleDrive, DropBox, or directly from your computer and get working within the interface in moments. The application supports the most popular file formats, including MP3, GIF, AVI, PNG, and MP4, along with some more rare file types.
Within the interface, it's pretty cut and dry. You can zoom and crop your photos or have them fit to the border. And you can select from four aspect ratios for the whole slideshow. For transitions, you can check a box to add a cross-fade for every image or go with no transition at all.
There's no music collection to choose from, but you have free rein to upload any song you want. Plus, you're able to trim the song if you'd like it to start from a certain point. Just don't expect to fade anything in and out.
When you're done, just hit the export button and the program will do the rest. You can download the slideshow or save it to GoogleDrive or DropBox. For added security, Clideo deletes input files right after you edit, and the output file gets deleted from their server in 24 hours.
What are its best features?
Nothing to download
Easy-to-use interface
File deletes in 24 hours from their server
What could be improved?
You have to pay to remove the watermark
No copyright-free music available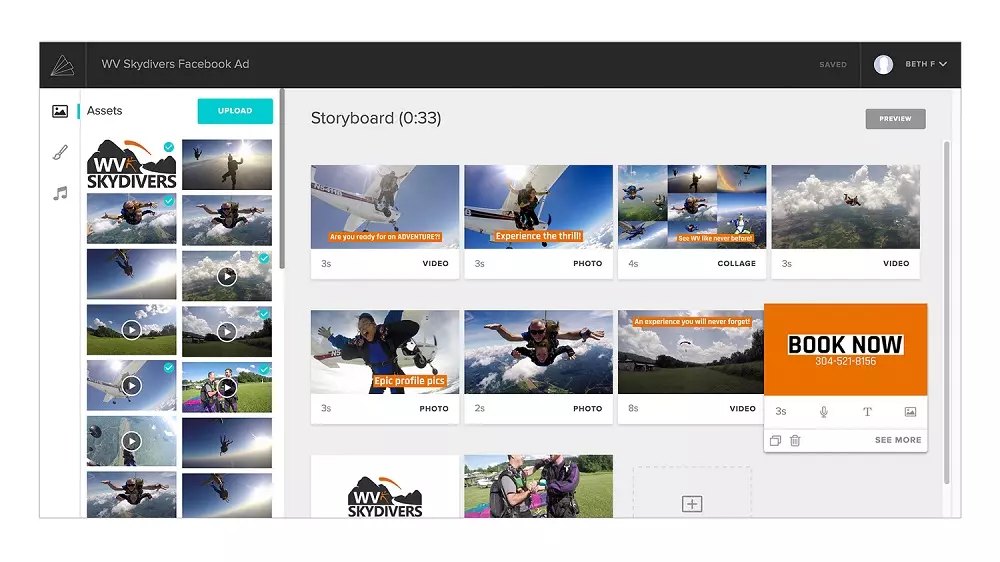 If you're looking to save some funds, Animoto is a solid free slideshow making option – and you don't even need to download anything. The developers geared the program towards social media, but it can work to create a slideshow for any situation.
To start, just register a free account and then you have access to all the basic functionality of the application. The fact that the interface is both clean and easy-to-use is what brings most users to Animoto. There are literally thousands of templates to choose in a versatile set of categories, including: Explainer, Amazon Promo, Holiday, Narrative, Motivational, and many more.
After you select a template, you can start uploading photos and videos and then arrange and customize them within your timeline via drag and drop. You can change coloring, add text, and then add music to give the slideshow some life.
When you're done, you can share your files directly to social media using a link from Animoto. You can also download the slideshow as an MP4.
What are its best features?
A wide variety of templates to choose from
Solid library of images and music
Easy-to-use drag-and-drop interface
What could be improved?
There's a limited amount of tools
The free plan has a watermark on the slideshow
Limited export options with the free plan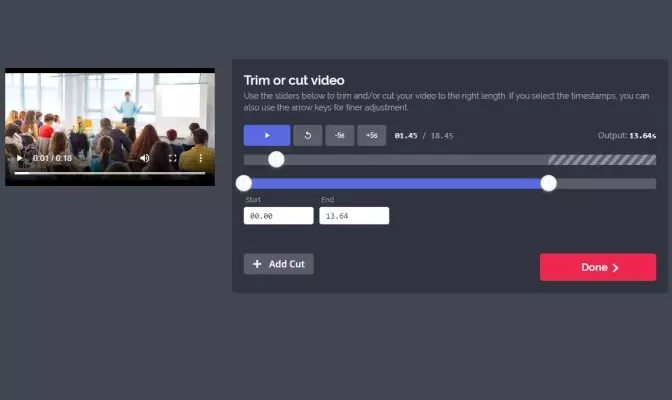 Kapwing's slideshow maker makes it easy to create slideshows for any occasion no matter the size – a few images or hundreds. The interface is intuitive and processes the videos quickly for an online slideshow editor.
To start, you can upload any photo, GIF, or video file from an extensive selection of popular file formats. But where Kapwing takes things further is, you can paste links to photos or videos from popular sites like Twitter and YouTube for a direct import.
From there, you can drag and drop your photos in the order you want and then select the aspect ratio for the slideshow. Kapwing allows you to set a duration for each clip, and you can also crop each photo individually to get the perfect placement.
This program comes with tons of tools to help you customize your show. You can insert text, titles, animations, custom background colors, stickers, and images from their library. There is also functionality to use a lot of Kapwing's video editing tools as well.
When you're ready to export, the program creates a link with a downloadable MP4.
What are its best features?
Allows you to export videos up to 30 minutes
Ability to crop clips and photos individually
Has titles, text, and sticker tools
What could be improved?
Only 250 MB available for upload
Videos under 5 minutes have a watermark on the free version
Limited aspect ratio selection
With this list of the best free slideshow makers, you'll be ready to create a slideshow on a budget any time. Each application has its advantages and disadvantages, but most are easy to access and use. In no time, you'll have a professional-quality presentation perfect for your job or for a family event.